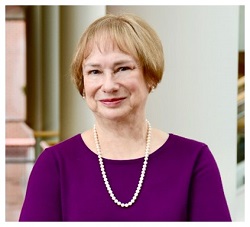 Alexandria, Va., USA, May 26, 2022 – American Association for Dental, Oral, and Craniofacial Research (AADOCR) President Jane A. Weintraub, D.D.S., M.P.H., testified today on behalf of AADOCR during a Public Witness hearing convened by the House Labor, Health and Human Services, Education and Related Agencies (Labor-HHS) Appropriations Subcommittee. 
Dr. Weintraub, a distinguished professor of Dental Public Health and former Dean at the University of North Carolina at Chapel Hill's Adams School of Dentistry, advocated for increased federal funding for the National Institute of Dental and Craniofacial Research (NIDCR) and the National Institutes of Health (NIH) in Fiscal Year 2023.
The testimony cited some of the impressive scientific accomplishments achieved by NIDCR in recent years as part of the Institute's mission to improve dental, oral and craniofacial health. Dr. Weintraub described how her own research, supported in part by funding from the NIDCR, helped demonstrate the efficacy of fluoride varnish in preventing early childhood tooth decay – research that helped form the basis for treatment that is a standard of care today.
Dr. Weintraub also stressed the importance of dental, oral and craniofacial research and NIDCR's role in contributing to the nation's overall health: 
"I cannot emphasize enough; how integral oral health is to our overall health. Poor oral health can affect (basic) activities that may be taken for granted…and creates an economic burden that disproportionately harms older adults, low income, and under-resourced communities… NIDCR-supported research (on) the interplay between the oral microbiome and the immune system (may) help predict or identify a diverse range of oral and systemic diseases".
Read Dr. Weintraub's full written testimony, view her oral testimony and House Committee members' responses, or watch the full Public Witness hearing with testimony from other witnesses in the public health and scientific community.
For questions, please contact AADOCR Director of Government Affairs Yehuda Sugarman.
 
About AADOCR
The American Association for Dental, Oral, and Craniofacial Research (AADOCR) is a nonprofit organization with over 3,000 members in the United States with a mission to drive dental, oral, and craniofacial research to advance health and well-being. AADOCR is the largest division of the International Association for Dental Research which has over 10,000 members. Learn more at www.aadocr.org.