Alexandria, VA – The American Association for Dental, Oral, and Craniofacial Research announced Judith Albino and Bruce Dye of the University of Colorado, Aurora as the 2023 co-recipients of the AADOCR Jack Hein Public Service Award. They were recognized during the Opening Ceremonies of the 52nd Annual Meeting of the AADOCR, which was held in conjunction with the 47th Annual Meeting of the Canadian Association for Dental Research (CADR), that took place on March 15, 2023.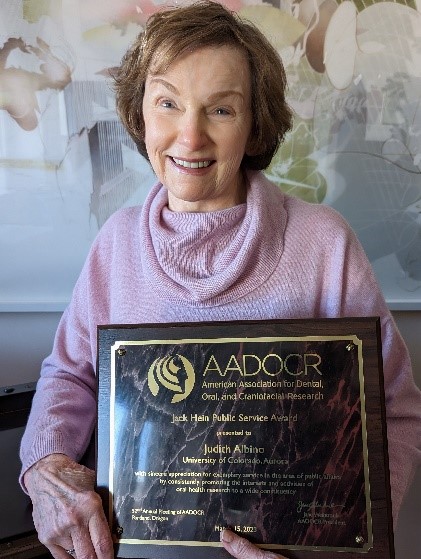 Albino and Dye were project co-directors and scientific editors of the 2021 National Institutes of Health/National Institute of Dental and Craniofacial Research report – Oral Health in America: Advances and Challenges – the follow-up report to the 2000 U.S. Surgeon General Report - Oral Health in America. The report examined progress in oral health over the past two decades, describing the challenges and opportunities that currently affect oral health.
 Albino is a health and community psychologist whose research has focused on health disparities and the development of prevention interventions for oral health. She was the principal investigator and director of the Center for Native Oral Health Research, the only NIH-funded center for research in oral health focused on American Indian populations. She is the author of more than 100 scientific articles, as well as numerous book chapters, and has presented her research at more than 200 national and international venues.
Albino's Colorado SPH appointment is in the Department of Community & Behavioral Health, and she also is a faculty member of the CU School of Dental Medicine. In addition, Albino is engaged in leadership training and executive coaching, working primarily with scientists and health professionals. She is the director of the Leadership for Innovative Team Science (LITeS) Program, a year-long leadership program for senior faculty sponsored by the Colorado Clinical and Translational Research Institute. Albino was president of the University of Colorado and subsequently served as interim dean of the Colorado School of Public Health, as well as in numerous other academic leadership roles at the University of Colorado and other higher education institutions.
Albino directed the only NIDCR funded Center for Native Oral Health Research. A unique feature of the center was its emphasis on conducting community-based participatory research with American Indian tribes to reduce oral health disparities in children. Albino has championed the development of precise and accurate assessment for oral disease and behaviors related to social and behavioral determinants in high-risk populations.
Dye graduated from the Ohio State University with a DDS degree, earned a master's in public health from the University of Michigan, completed epidemiology training at Johns Hopkins University and a Dental Public Health residency at NIDCR. He began his career in the US Public Health Service working in Indian Health Service clinics and hospitals in South Dakota and Michigan as a clinical dentist and program director. Later, he worked at the National Center for Health Statistics as the dental epidemiology officer for the National Health and Nutrition and Examination Survey. More recently, he was a Dental Epidemiologist and Director of the Health Informatics and Dental Public Health Fellowship at the NIDCR, which was in partnership with the National Library of Medicine.
Dye is an active diplomate on the American Board of Dental Public Health. He has served on several inter-agency work groups, national committees, and editorial Boards. He has received awards for achievement and scientific excellence, including those from the Centers for Disease Control & Prevention and the American Academy of Periodontology. 
Dye's work has focused on the epidemiology of dental diseases and related conditions, research methodology, and public health informatics. He has collaborated on several studies and survey operations both nationally and internationally. He has published more than 90 scientific articles, editorials, and book chapters including co-editing the textbook: Dentistry, Dental Practice, and the Community. 
The AADOCR Jack Hein Public Service Award honors individuals who have given exemplary service in the area of public affairs by consistently promoting the interests and activities of oral health research to a wide constituency. 
About AADOCR
The American Association for Dental, Oral, and Craniofacial Research (AADOCR) is a nonprofit organization with a mission to drive dental, oral, and craniofacial research to advance health and well-being. AADOCR represents the individual scientists, clinician-scientists, dental professionals, and students based in academic, government, non-profit and private-sector institutions who share our mission. AADOCR is the largest division of the International Association for Dental Research. Learn more at www.aadocr.org.