Alexandria, VA – The American Association for Dental, Oral, and Craniofacial Research (AADOCR) announced Michael Alfano, New York University, NY, as the 2023 recipient of AADOCR's Honorary Membership. Alfano was recognized during the Opening Ceremonies of the 52nd Annual Meeting of the AADOCR, which was held in conjunction with the 47th Annual Meeting of the Canadian Association for Dental Research (CADR), that took place on March 15, 2023.
 Michael Alfano is Executive Vice President emeritus, Professor emeritus and Dean emeritus at New York University (NYU) and was a founding Director of the Friends of NIDCR and the Santa Fe Group. He is nationally recognized for his leadership in dental education and research, as well as for insightful thinking, innovative approaches to education, and improving communications among the academic, government, and business sectors.
Alfano has served as a member of, or consultant to, various health-related organizations, including the National Institutes of Health, the Editorial Board of the American Journal of Dentistry, the Consumer Healthcare Product Association, and as the industry representative to the Non-Prescription Drugs Advisory Committee of the FDA from 2001 to 2005. He was also a Trustee of the New York State Dental Foundation until 2006. From 2010-2015 he served as a Director of the not-for-profit Delta Dental of New York Insurance Company. He also served as a Director of the YMCA of Greater New York, the largest YMCA system in the country, from 2010 to 2014. He currently serves as a member of the Executive Committee of the Santa Fe Group, which has recently focused on the inclusion of medically necessary dental treatment within Medicare Services.
Alfano's research and areas of interest include improving the quality and efficiency of higher education, especially dental education; enhancing oral and general health through better therapy, public education, and challenging the dental profession; evaluation of new products for personal care, dental and pharmaceutical industries; pathogenesis and therapy of periodontal disease; and nutrition in oral health. He is the author or numerous original journal articles, texts, book chapters, and magazine articles, and holds several patents.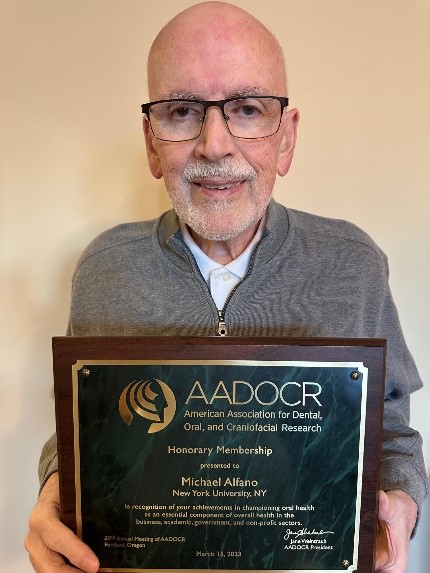 AADOCR Honorary Membership is granted by the three most recent living AADOCR past presidents who are no longer serving on the Board and given to a person who has made significant contributions to and/or supports dental, oral, and craniofacial research.
About AADOCR
The American Association for Dental, Oral, and Craniofacial Research (AADOCR) is a nonprofit organization with a mission to drive dental, oral, and craniofacial research to advance health and well-being. AADOCR represents the individual scientists, clinician-scientists, dental professionals, and students based in academic, government, non-profit and private-sector institutions who share our mission. AADOCR is the largest division of the International Association for Dental Research. Learn more at www.aadocr.org.