Alexandria, VA – The American Association for Dental, Oral, and Craniofacial Research named Sarah Peters, The Ohio State University, Columbus the 2023 recipient of the new AADOCR William Butler Fellowship. She was recognized during the Opening Ceremonies of the 52nd Annual Meeting of the AADOCR, which was held in conjunction with the 47th Annual Meeting of the Canadian Association for Dental Research (CADR), that took place on March 15, 2023.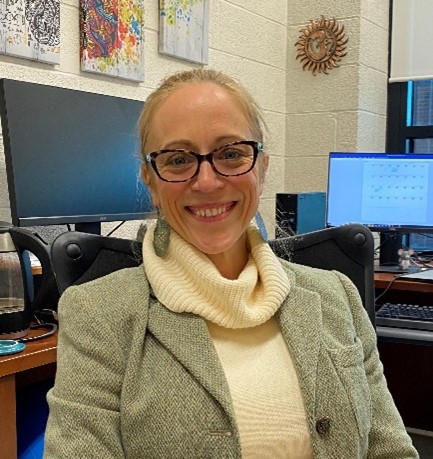 Peters is currently an Assistant Professor in the Division of Biosciences, College of Dentistry, at The Ohio State University in Columbus, Ohio. She has over 15 years of experience developing new methods and materials in a wide range of laboratory settings. 
Her projects have varied considerably, leaving her with a broad scientific background and diverse skill set that includes developing collection and processing devices to analyze atmospheric particulate matter chemistry, fine-tuning and measuring mechanical and biological substrates to study organ development, streamlining in vitro coculture assays to investigate neuronal-mesenchymal cross talk, and developing a murine surgical model to investigate the role of neurovascular signaling in tooth maintenance and repair. 
Peters has been working for several years with a mouse model the demonstrates bone and tooth hypomineralization, with research focusing on the internal and external factors that regulate the coordination of organ development and regeneration.
Awarded for the first time this year, thanks to generous contributions of AADOCR members, this Fellowship is in recognition of Dr. Butler's many contributions to research in mineralized tissues and his prominence as a leading mentor and role model in the field. The immediate goal of this fellowship is to support researchers at the early stages of their scientific careers.
About AADOCR
The American Association for Dental, Oral, and Craniofacial Research (AADOCR) is a nonprofit organization with a mission to drive dental, oral, and craniofacial research to advance health and well-being. AADOCR represents the individual scientists, clinician-scientists, dental professionals, and students based in academic, government, non-profit and private-sector institutions who share our mission. AADOCR is the largest division of the International Association for Dental Research. Learn more at www.aadocr.org.