Alexandria, VA – The American Association for Dental, Oral and Craniofacial Research (AADOCR) announced the 2023 AADOCR Fellows during the Opening Ceremonies of the 52nd Annual Meeting of the AADOCR, which was held in conjunction with the 47th Annual Meeting of the Canadian Association for Dental Research (CADR), that took place on March 15, 2023.

The AADOCR Fellows Program recognizes leaders of AADOCR and individuals who have served the organization in various ways throughout their careers. Through this program, AADOCR strengthens its mission to drive dental, oral, and craniofacial research to advance health and well-being. All nominees must pass a rigorous nomination process developed to ensure their commitment to AADOCR. Once selected as an AADOCR Fellow, each may serve as:
Reviewers for future Fellow selection, 
 Ambassadors of excellence in oral, craniofacial and dental research, 
  Advisors to the AADOCR Board and/or Council on matters when requested, and
 Mentors to other AADOCR members.
The 2023 Fellows are:
Binnaz Leblebicioglu, The Ohio State University, Columbus 
Chung How Kau, University of Alabama at Birmingham
David Scott, University of Louisville, KY
Grace De Souza, University of Louisville, KY 
Raul Garcia, Boston University, MA 
Spiro Megremis, American Dental Association, Chicago, IL 
Tamanna Tiwari, University of Colorado, Aurora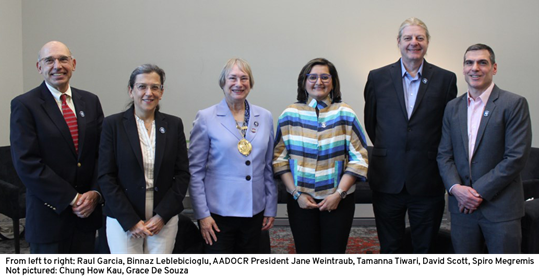 To see the full list of AADOCR Fellows, visit: https://www.iadr.org/about/aadocr-fellows-program
About AADOCR
The American Association for Dental, Oral, and Craniofacial Research (AADOCR) is a nonprofit organization with a mission to drive dental, oral, and craniofacial research to advance health and well-being. AADOCR represents the individual scientists, clinician-scientists, dental professionals, and students based in academic, government, non-profit, and private-sector institutions who share our mission. AADOCR is the largest division of the International Association for Dental Research. Learn more at www.aadocr.org