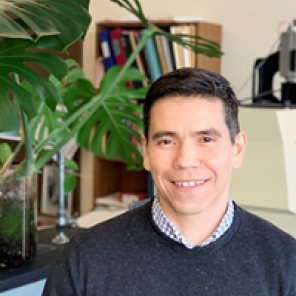 Bruno Lima is a research assistant professor at the University of Minnesota, School of Dentistry in the Department of Diagnostic and Biological Sciences, Minneapolis. Lima received his dental degree from the Federal University of Rio Grande do Norte in Brazil and his Ph.D. from the Department of Microbiology and Immunology at Loyola University, Chicago. His research focuses on understanding how bacteria interact with their environment and the consequence of these interactions on their physiology. As a dentist, Lima is particularly interested in studying how different environmental interactions affect dental plaque development and whether these interactions can be manipulated to promote oral health. Lima has authored several peer-reviewed articles, he is currently the recipient of a career development award (K08) from the National Institute of Dental and Craniofacial Research (NIDCR) and was recently selected as the recipient of the 2020 American Association of Dental Research (AADR)/Procter & Gamble Underrepresented Faculty Research Fellowship.

1. How did you first learn about AADR and what motivated you to join?
After I moved to the U.S. from Brazil, I started a Ph.D. in microbiology at Loyola University, Chicago. A couple of years into my Ph.D., I was looking for ways to stay in touch with the dental and craniofacial research field. I came across the Journal of Dental Research and became aware of the AADR. I immediately felt the need to join AADR to help me establish connections in the dental research field.

2. What do you find to be the most valuable benefit of AADR membership?
Perhaps one of the most valuable benefits of being an AADR member, which I was not fully aware of before I joined, is the access to the multiple programs and awards in place to help students and early-career investigators succeed. I strongly encourage students and early career investigators to take a look at the many awards and opportunities available through AADR and to consider applying.
3. You have been selected as a mentee for the inaugural class of the AADR Mentoring an Inclusive Network for a Diverse Workforce of the Future (AADR MIND the Future), congratulations! What motived you to apply for this program?
Thank you! I learned about the AADR MIND the Future program through a webinar in May 2020. During the webinar, the PIs and Management Committee members highlighted the goals of the program. I was excited to see the emphasis on career development, in particular the focus on skills that are not necessarily taught during graduate school. For example, how to navigate interpersonal relationships with peers, students and administration. Also, how to transition from a mentee to a mentor and how to become and effective mentor. In my view, these are essential skills for a successful career in science, but often we are not taught these skills in graduate school or during our postdoctoral years.
4. What excites you most about being part of AADR MIND the Future?
The most exciting thing about the program for me is the connections that are going to be made. It was exciting to see people that I have become friends with over the years through the AADR meetings also being selected to be part of the AADR MIND the Future program. I was equally excited to meet new people, to learn of their research interests and to see how excited everyone was to establish new connections that can potentially lead to new research endeavors.
5. What do you view as the best way for other members to become more involved in AADR and get the most out of the membership?
I would encourage AADR members to submit their research abstract and attend the Annual Meetings as often as possible. Go to their IADR Scientific Group or Network business meetings and receptions — for me this was a fantastic way to meet new people and establish new connections. If you have the time, consider volunteering to serve in one of the committees, this is a great way to help the organization and potentially guide it in the direction that you would like to see it go.