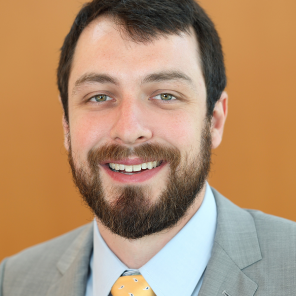 Joshua Emrick is a scientist and dentist with an interest in oral somatosensation, particularly pain. He received his B.S. in neuroscience with honors and highest distinction from the University of Michigan, Ann Arbor. He was awarded his D.D.S. and Ph.D. in oral and craniofacial biology from the University of California, San Francisco as part of the integrated Dentist Scientist Training Program. Emrick completed his dissertation with Dr. David Julius studying the molecular mechanisms of pain and itch. He is now a Clinical Research Fellow at the NIDCR in the laboratory of Dr. Nicholas Ryba: his recent work aims to uncover the biological underpinnings of "tooth pain" and other oral sensations.
Emrick was awarded the NIDCR Career Transition Award (K22) this year and is now in the process of beginning his extramural research program as a new investigator. He a past recipient of an NRSA Individual Predoctoral Fellowship (F30), the UC Regents Scholarship and the Elizabeth Fuhriman Gardner Award. His work has contributed to publications in the Journal of Dental Research, Proceedings of the National Academy of Sciences, Cell, Nature and Pain. He served as the President of the AADOCR National Student Research Group (NSRG) and as Student Representative to the AADOCR Board of Directors (2013-14).

1. How did you first learn about AADOCR and what motivated you to join?
When I was an undergraduate student, I conducted research. I had an opportunity to join the Society for Neuroscience and attend a Neuroscience meeting. From this I inherently understood these activities were a fundamental part of an academic career. I went to the University of California, San Francisco to complete my dual degree program and pursue a career in research. Immediately it became apparent that the premier organization for oral and craniofacial research is IADR, and that attending IADR and AADOCR conferences would be very important for me to disseminate my work and advance my career.
2. What do you find to be the most valuable benefit of an AADOCR membership?
I've been an IADR/AADOCR member for 11 years now. For me, the neat thing about the meetings is that it brings such a diverse set of scientists together — there are researchers involved in developmental biology, neuroscience, dental public health research… all of these research areas are coming together. It's allowed me to update my colleagues professionally, but also just to see my friends. It turns out to be a pretty small research world. I realized that many of the more established scientists have been in the organization for 30 years and they seem to know everyone. Personally, being able to lean on that network I've established with AADOCR has been valuable.
3. Tell us about your recent research focus. How has being involved with AADOCR impacted your research?
I began studying somatosensation and pain in my Ph.D. work. As a clinical research fellow, I continued thinking about sensation and pain, but shifted my focus to the oral tissues including the teeth. I'm biased because of my clinical training, but I'm really drawn to the oral cavity because it provides us with a rich sensory experience. Wetting of the skin on the back of my hand is an incredibly different feeling than taking a drink of water. I'm interested in the sensory basis for that fundamentally different experience. How do the sensory neurons that innervate the mouth respond to the environment? Which neurons are responsible for detecting different aspects of a stimulus? Where is that information relayed to the brainstem for processing?
Among oral structures I'm especially interested in the teeth because their innervation has the potential to cause extreme pain. This nasty experience is unfortunately common considering tooth decay is endemic. When I am working as a dentist, many of my procedures rely on blocking pain. For me, it is a natural extension to be exploring pain as a scientist with the same long-term goal of stopping pain. With my recent work I've defined the sensory neurons that innervate the teeth, and now I am determining what triggers their activation and which subgroups of these neurons can trigger pain behaviors.
My move to the NIH has been one of the most important advances in my career. In part I have AADOCR to thank for this match. I first found out about the Dental Clinical Research Fellowship during an information session during one of the annual meetings. I'd even wager that presenting at later sessions increased my visibility and increased my chances at being accepted for the Fellowship. Also worth noting: I initially learned about the funding opportunities that have supported my training (i.e. F30, K22) at NIDCR-related information sessions at the annual meeting over the years (Drs. Lynn King and Leslie Frieden of the NIDCR have been helping trainees for years).
4. You were President of the AADOCR National Student Research Group (NSRG) and served as Student Representative to the AADOCR Board of Directors — thank you for volunteering your time! Why did you decide to join the NSRG and volunteer in leadership roles? How has that involvement impacted your career?
It was my pleasure!
As a dental student, I took on a role as President of the John Greene Society, the student research organization at the University of California, San Francisco School of Dentistry. I had such a positive experience; it motivated me to pursue the position at the national level in the NSRG. Both roles gave me the opportunity to promote research and research experiences for dental students. For students that conduct research, they may or may not continue working in research, but they certainly gain an appreciation for the work that makes dentistry a profession (and that it's often demanding). Another benefit for these students is that their research experiences help build critical thinking skills necessary for professionals.
My experience serving as AADOCR NSRG President and as the Student Representative to the AADOCR Board of Directors was incredible. I had the opportunity to see the back end of how the organization is run and how it adapts and changes with new demands. Along the way, I formed many lasting relationships with other members of the board. These folks – there are too many to name – have continued to be my career and scientific mentors. Their guidance and encouragement have been instrumental in my development. I can safely say I wouldn't be where I am today without their help.

5. What's a message you want to give to future dental researchers?
I'd say that every person, no matter what stage they are in training, has something to offer and has something to learn. Do your best to communicate and to connect with others. Be curious. You never know how you might be able to help a colleague or new friend, or what piece of advice will give you an epiphany or change your trajectory.
Joshua Emrick is a scientist and dentist with an interest in oral somato-sensation, particularly pain. He received his B.S. in neuroscience with honors and highest distinction from the University of Michigan, Ann Arbor.