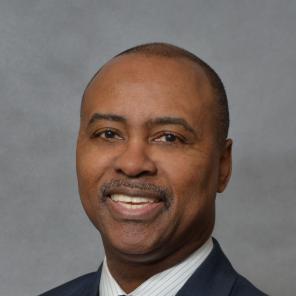 Keith A. Mays D.D.S., Ph.D., M.S., is the Associate Dean of Academic Affairs and Associate Professor in the Department of Restorative Sciences, Division of Prosthodontics at the University Of Minnesota School of Dentistry.

Mays earned a B.S. degree from Morgan State University, and his D.D.S. from the University of Michigan School of Dentistry. He completed a General Practice Residency at the University of Michigan Hospital and Clinics. He received a certificate and a M.S. in prosthodontics from the University of Iowa College of Dentistry and a Ph.D. from the University of Maryland Dental School.
He has previously served as the Division Director of Prosthodontic at East Carolina University School of Dental Medicine and the Assistant Director of the General Practice residency at the University of Maryland Dental School. He has taught several preclinical prosthodontic courses, seminars and clinical prosthodontics. His academic career also has included student mentoring and advising, private faculty practice, university and community service and service to dental organizations.
Dr. Mays serves as the Faculty advisor for the Student National Dental Association. He has served as a thesis advisor for Master's student. He is a member of the IADR/AADOCR, American College of Prosthodontists, American Dental Association, Minnesota Dental Association, and National Dental Association. He currently serves as a member of American Dental Education Association Board of Directors. Dr. Mays' research focuses on compensatory oral motor function, the use of CAD/CAM as an assessment tool in pre-clinical dental education, and enhancing community based dental experiences for students. In addition, Dr. Mays serves as a peer reviewer.
How did you first learn about the AADOCR and what motivated you to join?
I knew about the AADOCR going back to when I did my graduate training in prosthodontics. At that time, I can't say that I was committed or deeply involved, but I was a specialty student in training, and the goal of myself and my mentor at the time was to present my work at the AADOCR meeting which was in1993, I believe. This was my entrée and I think as a faculty member six or seven years later I have been a little bit more engaged. The motivation came from wanting to be engaged with the dental research community and present my research and get feedback from other researchers. I also wanted to learn more about research, not mainly in areas I worked but ones I had some type of interest in. These are my reasons for joining.
Can you describe your research? How do you hope your work will impact others?
My research has changed a little bit over the most recent years and primarily due to role change. I will say that my research has been in two different areas. The area that I am in right now is educational research and the area prior to that was compensatory oral motor function. It had to do with speech and jaw movement and swallowing. We tried to gain understanding about dental prosthesis on jaw movement and the things clinicians fabricate. My newer area of research is about trying to create and validate new knowledge and move the pendulum of education further along the road and also improve on things that we are doing in education. The global impact is always to understand the impact our work has on patients and work to improve that as well as improve education and our educational model.
Can you tell a story or give an example of how cross collaboration with other scientific disciplines has been important to your career?
My interdisciplinary interprofessionalism collaboration was primarily with a physician who was a rehab medicine specialist at John Hopkins University, Baltimore, Md – Jeff Palmer. I was able to begin my research career by working with him through a T-32 grant that we had at the University of Maryland, Baltimore. That was a very pivotal experience because it was extremely illuminating to watch how he monitored his research team and how work was divided and the thought process that was generated to answer questions and even determine what we're going to write, etc. One of the interesting moments I experienced was when we were doing a swallowing study and we had not captured the palatal movement and as prosthodontists in training my thoughts allowed me to make a simple device that had not been used before, so my presence on the team as a dentist helped my physician colleagues capture palatal movements and bring that into the total picture of what the mouth, jaw and tongue were doing through video fluoroscopic swallowing studies. It really showed me how important it was to collaborate with a team. Interdisciplinary research collaborations can be extremely vital to help our science. With the educational research aspect we are collaborative to some degree. It has been a little less collaborative and it has to due to the unique way we do dentistry. I am working on a project right now and one of the team members has a unique skill set based on community engagement and because of that the info we are trying to get about our dental community facilities she brings a unique perspective. Even in that regard it allows you analyze data from different angles that you normally wouldn't.
Can you describe your experience being a researcher from an underrepresented group in science?
I think that the challenges that happen through race and ethnicity are the same when it comes to the clinical aspect and research. The challenges because of that can be magnified due to what you do as a researcher, the stakes are different and competition levels are steeper. I think the area that has been challenging the most is mentoring; this is why working with Jeff was so pivotal. Just being able to find those opportunities and venues can be very challenging. Having the right mentorship, coaching and training is vital. The developmental piece is the one that I think is the most difficult. But, there have been some people that have been able to have great mentorship and have been very successful in their field.
Have you had the opportunity to mentor Underrepresented Minorities or work to increase diversity in science? If yes, can you describe your experience and what agencies/organizations you worked with?
I have not worked with any agencies, but I have had the experience at two different institutions and in different ways. During my Ph.D., I needed to have some help and I was able set up a work study account and get some research help from dental students. About 75% of those students happened to be minorities so I was able to engage them in what I was doing. They helped me with data analysis and gathering of information. Several of them ended up being on my posters. I have one person who is a rock star in that arena because he ended up going into public health and obtaining a Ph.D., and now he is at National Institute of Health doing great things. In another situation I was able to engage a student at East Carolina University, Greenville, North Carolina who is now completing oral surgery training. We were able to do some educational research. The project we were working on ended up having some design flaws and I realized I wasn't going to get the data that I wanted but from us talking we were able to make some adjustments and execute a better plan. We ended up creating a study which he presented on campus and won an award for which also ended up being published. In those ways it has been rewarding being able to mentor and share the knowledge I have with them.
Based on your experience, how would you encourage AADOCR members to help increase the diversity of the research workforce?
I believe creating opportunities has to be intentional. We think that every person that comes in our doorstep is interested in doing research and has everything all together but that's usually not the case. There may be some teaching that needs to be done so that people can learn and develop those ideas. It is best to meet every person where they're at and bring them up to where they need to be. Reaching out to people and bringing them to the table is important. They may not be able to figure out how to do it on their own or even ask the right questions. I believe the membership team should reach out to the mentors and encourage them to seek out other people and bring them in and express how beneficial research is. I think some of the projects that AADOCR is doing are creating robust opportunities to get the students involved but they just have to be more intentional with them and encouraging them to join those programs.
What role do you think professional associations can play in supporting its members who are members of underrepresented minority/ethnic groups?
Grooming and coaching is very important. I think that professional organizations have a huge opportunity in trying to develop URM researchers so that there is no gap. To close this gap people need to be intentional and a way to accomplish this is by having a one on one session with students or programs or through the student research group. If someone presents a poster and does a great job don't just leave it at the congratulations, ask the next question "So what are you going to do next?" and try to guide them to the next step of a research journey. I am not sure what AADOCR is doing in terms of placement but creating opportunities for researchers to match with another researcher will be beneficial.