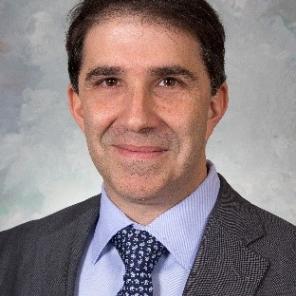 Marco C. Bottino is an Associate Professor with tenure in the Department of Cariology, Restorative Sciences and Endodontics and Director of the Postgraduate Program in Regenerative Dentistry at the University of Michigan School of Dentistry, Ann Arbor.
Bottino received his D.D.S. from the Universidade Paulista, São Paulo, Brazil, his M.Sc. in Nuclear Technology (Materials) from the University of São Paulo (Institute for Energy & Nuclear Research, Brazil), and his Ph.D. in Materials Science from The University of Alabama at Birmingham.
Bottino's research focuses on the development of drug delivery systems for ablating oral infection and stimulating dental tissue regeneration. Recently, his laboratory has expanded its program to include generating personalized and tissue-specific strategies to regenerate soft and hard tissues by leveraging innovative bioprinting technologies. Bottino served as President of the IADR Dental Materials Group and is a winner of the prestigious IADR Centennial Emerging Leaders Award.

1. How did you first learn about AADR and what motivated you to join?
I'm from São Paulo, Brazil, and I went to a private dental school there, but it was not as research intensive as some of the other public dental schools in the State. Even though the environment was not necessarily conducive for every student to conduct research, I found myself very interested in pursuing a clinician-scientist academic career with a focus on dental, oral, and craniofacial tissue regeneration. My mentors connected me with ample research opportunities. I had to travel to a different school in the State of São Paulo, where they had the infrastructure to conduct the research that I wanted to pursue.
Besides the Brazilian Division of IADR, as a dental student in general, you always aspire to present your research findings, have the opportunity to travel abroad, and be able to interface with the names you know and admire. I became an AADR student member towards the end of my fourth year in dental school. I was able to submit my research abstract to the San Diego meeting back in 2002. And since then, throughout my MSc and PhD training, as well as a faculty member, I have been able to attend almost every meeting.
2. What do you find to be the most valuable benefit of AADR membership?
I have been a continuous IADR/AADR member for close to 20 years, now, including as a student member. I strongly believe that there are numerous benefits during all career stages. The three-dimensional picture starts from the student's standpoint, moves to a junior investigator, and on to a senior leader in the field, ultimately being one who then strives to mentor and help junior faculty in their careers.
When you are a young student, IADR/AADR connects you at meetings and provides networking opportunities. IADR members come from around the globe; so, as a student member, you get to see firsthand what is happening in the field worldwide. You are able to participate, share your research and ideas, and receive feedback from your peers and from well-seasoned researchers.
As a junior faculty, I benefited from the pre-meeting symposiums and mentoring workshops. These opportunities are of great value to junior faculty or junior investigators. They are able to understand how the system works — everything from panels about grant writing, to navigating a tenure-track position.
In the later stages of your career, there are opportunities in terms of advocacy for research and obtaining the much-needed critical support to move dental, oral, and craniofacial research forward while addressing pressing needs in oral health.
For me, the most valuable benefit is the meetings. I would wait for a whole year to not only learn about new science and share my own science, but also for the networking and to be part of the environment. It is in this environment where I feel the most at ease, because it's my home, actually.
3. You served as President of the IADR Dental Materials Group. What motivated to you first join the group and then to volunteer in a leadership role?
I've been involved in materials research since my second year in dental school, so my ability to engage with the IADR Dental Materials Group (DMG) early on has been invaluable. One thing that is really phenomenal about the IADR DMG is the sense that your colleagues and friends are giving you the opportunities that you ask for.
The IADR DMG is the largest in terms of membership and abstracts that are submitted. This group has much to offer and a plethora of opportunities that engage people who are looking to contribute as abstract reviewers, marshal Lunch and Learning sessions, and organize collaborative symposia. I've been organizing Lunch and Learning sessions and symposiums for nearly 10 years. Sometimes I speak, sometimes I organize, and I always try to recruit junior faculty and senior post-docs to be reviewers.
The people in the DMG are doing outstanding work. Within the group, you build your own reputation; you want to be viewed as someone who wants to contribute, and I received an opportunity from my peers to run for the position of Vice President.
I've also been strongly associated with the IADR Pulp Biology Research Group — that group does a tremendous job of engaging younger researchers. The IADR Scientific Group/Network structure is incredibly valuable for networking, establishing your reputation, and getting involved in leadership positions.
4. You are one of the IADR Centennial Emerging Leaders Award winners, congratulations! What excites you most about the future of dental, oral and craniofacial research?
I felt very humbled and honored to receive the IADR Centennial Emerging Leaders Award; it was truly remarkable for me. I was fortunate that my institution nominated me for the award, and I think it speaks to the supportive environment here at the University of Michigan, Ann Arbor. Being able to receive such a prestigious award during the celebration of the IADR Centennial, I felt like it was also a celebration for my career in terms of being a part of the 100 years of collective research that allows us to translate scientific discoveries to improve oral health care.
What excites me the most about the future of dental, oral, and craniofacial research is that I see an incredible revolution in the development of new restorative materials with unique properties, ranging from antimicrobial and regenerative/reparative properties, to more predictable clinical strategies to reconstruct dental tissues lost by trauma and/or disease. Meanwhile, advances in the areas of digital dentistry, precision medicine, and artificial intelligence are deemed to promote a significant paradigm shift in the way dentists diagnose, treat, and monitor oral diseases. I think if you look at all these topics together, I believe they will make a significant impact by improving the quality of human life. All of them will certainly depend on interdisciplinary and multidisciplinary collaborations, which are a flagship of IADR and AADR. You have the entire breadth of dental research, and I believe that being able to explore that as a student, as a junior faculty, and as a senior leader in your field, is invaluable to one's career and to the field as a whole.
Without a doubt, IADR/AADR is the best platform for these important collaborations to occur and the Associations' make it easy to bring together people from different personal, ideological, and research backgrounds. Being able to crosstalk among the different disciplines will be key to the future of dental, oral, and craniofacial research.
5. What do you view as the best way for other members to become more involved in AADR and get the most out of the membership?
I have alluded to the core of this question in previous answers, but I think the whole spectrum of opportunities that IADR/AADR offers is phenomenal. Joining IADR/AADR at the student level is a tremendous opportunity for aspiring researchers and dentist-scientists to start shaping their academic careers. Students are supported and can engage in their AADR chapters, serve in the AADR NSRG and in a national setting through the IADR Scientific Groups and Networks. The meetings and receptions grant them the ability to meet face to face. That allows you to get to know one another, which gives you a sense of community. You can nominate or self-nominate for volunteer and leadership positions. There are so many doors that your involvement in IADR/AADR can open. This will not only help your individual career, but it will make our field stronger.