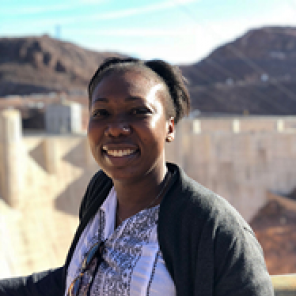 Modupe Coker is a tenure-track Assistant Professor in Oral Biology at the Rutgers School of Dental Medicine, Newark, NJ. Coker completed her dental training from the University of Ibadan, Nigeria. After graduation, she completed her internship at the University College Hospital, Ibadan, Nigeria, and served at a rural hospital in Northern Nigeria. Coker completed her M.P.H. with a concentration in Epidemiology and Biostatistics at Johns Hopkins Bloomberg School of Public Health, Baltimore, MD and her Ph.D. in Epidemiology at the University of Maryland, Baltimore, where she studied the association between HIV infection and perinatal exposure, oral microbiome and dental caries in young Nigerian children under the NIH Fogarty program.
Building on her microbiome, HIV and clinical expertise, Coker's laboratory is currently conducting large-scale human microbiome research in the context of longitudinal molecular epidemiology studies in young children. Her lab is focused on building clinical infrastructure for a longitudinal cohort and utilizing metagenomic, metatranscriptomic and metabolomic characterizations of oral samples to fill the aforementioned gaps and further advance understanding of the gene expressions and metabolic functioning of salivary, buccal and dental plaque microbiomes in context of the health and disease.
How did you first learn about AADR and what motivated you to join?
I have known about AADR since dental school and I was intrigued by the network of professionals and faculty members within IADR and AADR.
What do you find to be the most valuable benefit of AADR membership?
Being an IADR/AADR member allows me access to a huge network of scientists and researchers in the field of dentistry.
You have been selected as a mentee for the inaugural class of the AADR Mentoring an Inclusive Network for a Diverse Workforce of the Future (AADR MIND the Future), congratulations! What motived you to apply for this program?
It is a great honor to be selected as a mentee within the AADR MIND the Future program. A senior colleague had sent me the announcement and suggested that it would be a great fit. After reading the program details, I absolutely agreed with him and applied to the program.
What excites you most about being part of AADR MIND the Future?
The AADR MIND the Future program affords me the opportunity to connect with distinguished researchers — Principal Investigators of the AADR MIND the Future award, as well as seasoned researchers and mentors, and of course, my fellow mentees. I knew this would be such a rewarding experience and it has definitely been! I am most grateful and excited about the mentor assigned to me by the program and my fellow mentees; it has been so transformative working with them. I believe this experience would be the foundation for lasting and productive relationships.
What do you view as the best way for other members to become more involved in AADR and get the most out of the membership?
Other members would get the most of the AADR membership if they paid attention to the AADR notices and announcements, and looked into opportunities to serve, volunteer and apply for the many IADR and AADR awards, grants and fellowships. I was made aware of the AADR MIND the Future program and I am thankful for this opportunity to grow my career, build independence in research and expand my professional network.