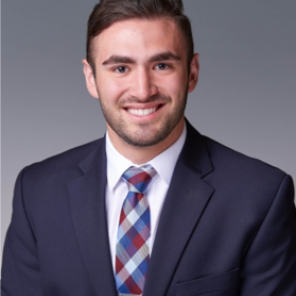 Nicholas Rodriguez was born and raised in McAllen, Texas. He received his undergraduate education in Biology from Baylor University in Waco, Texas in 2014. Nicholas is currently a fourth year D.D.S./M.P.H. student at the University of Texas School of Dentistry at Houston and currently serves as the President of the National Student Research Group (NSRG), a board under the American Association for Dental Research (AADR). Mr. Rodriguez plans on continuing his education after dental school by pursing a residency program in pediatric dentistry and contributing to this profession through scientific discovery and public policy. Mr. Rodriguez has a wide range of research interests that include craniofacial genetics and oral health literacy. In his free time, Mr. Rodriguez enjoys volunteering and giving back to his community through various organizations such as the Albert Schweitzer Fellowship. Mr. Rodriguez strongly believes in the importance dental research at the pre-doctoral level and advocates for it nationally.
How did you first learn about the AADR and what motivated you to join?
I first learned about the AADR through my academic institution. Before I started dental school I knew research was something that I wanted to get into because I had done it previously in my undergraduate university. So when I got into dental school, I got involved with the National Student Research Group (NSRG) and they told us about the research opportunities available to us and from there I learned about the organization that is behind organized science. I have always been one to talk and share my ideas and I felt like it was really an opportunity to join this organization to be able to do just that. I was also motivated by the mentoring possibilities that were available through it and being able to be a leader in the field I was passionate about.
Can you describe your research? How do you hope your work will impact others?
I have had a very diverse research experience through the school. My first two years of dental school I did craniofacial cleft lip and cleft palate research looking at associations between certain types of cancers and incidences of cleft lip and cleft palate. It was a really good experience and I really learned a lot about it. I started my M.P.H in dental school my second year and my research focused on more public health research. In these last two years I have been looking at oral health literacy and how it impacts the patients that we serve. I am hoping that with the things that I study I am able to make an impact on someone's life.
Where do you see yourself in 5 years?
I am planning on graduating dental school next year and once I finish that I will have my D.D.S and my M.P.H. I just finished applying to my pediatric residency programs and if everything works out I'll be a pediatric resident. I am also planning on exploring public policy through the D.D.S and M.P.H. and eventually doing a part time private practice and part time at an institution trying to do either government affairs or policy or just have a faculty position at some point.
Can you tell a story or give an example of how cross collaboration with other scientific disciplines has been important to your career?
The amazing thing about science is that is a communicative type of field and you're able to get ideas for your own research from just talking to people. One of the biggest stories for me is being at an AADR meetings, I was giving a poster presentation San Francisco and someone came up to me after my presentation saying "Have you ever thought about this?" and it kind of lead to my next research aim. Cross-collaboration helps with getting different perspectives on topics and they can give you a different view of your own science and your field in general.
Can you describe your experience being a researcher from an underrepresented group in science?
I feel like I haven't really been disadvantaged and while that's the case I do feel that it is very important to represent the group I am from and be a mentor to be people that are interested in this field. I am very passionate about helping other people and getting them interested in science, higher education and just dental research in general, so I feel it is important to reach out to those peoples and make a difference in mentorship.
Have you had the opportunity to mentor underrepresented minorities (URMs) or work to increase diversity in science? If yes, can you describe your experience and what agencies/organizations you worked with?
I have had a lot mentors that have come through and made a way. This has happened through the various research projects I have been a part of. My first two years of being in my craniofacial research I had a mentor who helped me really understand and get my get my foot set in dental school. These past two years I have also had a mentor help me with my public health. I have definitely had a lot of opportunity and I feel if you are looking for different opportunities there are mentors there to help you out. Now that I am fourth year dental student I have had the opportunity to reach out and mentor first and second year dental students that are interested in leadership positions or interested in pursuing anything outside of private practice dentistry. I am looking forward towards doing it more.
Based on your experience, how would you encourage AADR members to help increase the diversity of the research workforce?
I believe members should be aware of their type of work environment and encourage other people who are maybe interested in it or just remember where they started from. All of us started from a time when we didn't know what we were doing and we didn't know the ins and outs of research and now we are all advanced and it is a different story. So I think it's best to just encourage and reach out and be mentors to people who are interested.
What role do you think professional associations can play in supporting its members who are members of underrepresented minority/ethnic groups?
I think AADR plays a vital role in collaboration between organizations to try and increase the number of URMs that partake in scientific research. Without the home bases it is very hard to get anything done so by fostering things together so that people can get a better understanding is very important. It can be done at a meeting, or seminar or anywhere. They can use other platforms like social media as well to promote that awareness and opportunity for people to make that change and connect.