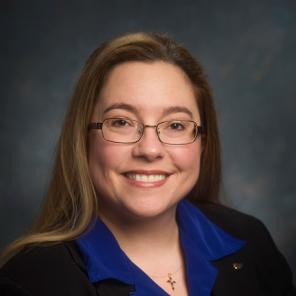 Stephanie Momeni is a Postdoctoral Research Scholar in the laboratory of Hui Wu in the Department of Integrative Biomedical & Diagnostic Sciences at Oregon Health & Science University, Portland. She graduated with a M.B.A., M.S. in Dentistry and Ph.D. in Biology with specialization in Oral Microbiology from the University of Alabama at Birmingham. Momeni's research is focused on investigating the role of oral microbiota in overall human health. Previously a Dental Academic Research Training (DART, T90) Pre and Postdoctoral Scholar, Momeni is currently supported under a Diversity Supplement and is an NIH Loan Repayment Awardee. Her current postdoctoral research is concentrated on the identification and determination of the role of novel small molecule metabolites from biosynthetic gene clusters of Streptococcus mutans in early childhood caries. Momeni's long-term career goal is to build a multidisciplinary research program bridging epidemiological associations with molecular science validations to further advance the study of oral microbiota impact on overall health.
1. How did you first learn about AADR and what motivated you to join?
I first learned about AADR from my Principal Investigator and lab mates in my first research position. I joined AADR for the exceptional environment to learn more about oral microbiology.

2. What do you find to be the most valuable benefit of AADR membership?
The Annual Meeting is the benefit I find most valuable. I get to meet so many amazing people. It's fabulous to get to go to great locations and share your science, but also to get dynamic feedback. It's almost a real-time way of getting new ideas and meeting new collaborators — it is a melding of the minds, if you will. It offers the best opportunities for learning about new advancements, building collaborations, discovering new professional development training and stimulating peer interactions to make our science better.

3. You have been selected as a mentee for the inaugural class of the AADR Mentoring an Inclusive Network for a Diverse Workforce of the Future (AADR MIND the Future), congratulations! What motived you to apply for this program?
Thank you for the congratulations! I am a strong advocate for continuing professional development training and I am always looking for new opportunities. I applied to the AADR Mind the Future Program because learning more about how to improve diversity and inclusion in the scientific workforce is very important to me both as a mentee and as a future mentor. I am also an avid fan of improving mentoring skills across the board from graduate students to senior mentors. I especially like the focus on mentorship in the AADR Mind the Future program. People don't always put a lot of emphasis on these so called "soft skills", but having my M.B.A. and Project Management Professional certification, I think when those skills are leveraged properly are highly valuable, especially when you go on the job market.

4. What excites you most about being part of AADR MIND the Future?
The opportunity to receive advanced professional training at the national level and to grow together with this exceptional group of talented junior researchers and senior mentors are reasons I genuinely appreciate this opportunity and look forward to experiencing more of as part of this program.
Another thing that's really nice about this is they emphasize the National Research Mentoring Network — that's something I've always wanted to get more involved with. I'm a strong advocate for more mentor training, even for more senior mentors. There has been this tendency in the past where your mentor does what his or her mentor did without formal training or additional perspectives. I think if we have continued mentor training throughout our careers, we can all be better mentors and improve the mentoring experience for sides of the mentoring relationship. This is especially critical in translational science programs. AADR Mind the Future offers valuable perspectives that can enrich our mentoring abilities and awareness.

5. What do you view as the best way for other members to become more involved in AADR and get the most out of the membership?
First, I would say always attend the Annual Meeting if possible. Attending these meetings has greatly contributed to refining and improving my science as I have grown. Second, I would strongly recommend getting involved in AADR any way you can. Committee and leadership positions are available. I have learned so much and met so many amazingly talented people though these opportunities.
I have to give credit to AADR Past President Mary MacDougall who was the Dean of Research at University of Alabama at Birmingham at the time. She really encouraged us to always get involved at the national level and to run for AADR National Student Research Group (AADR NSRG) office. In doing that, I met a number of the people who were involved. I was able to get into the representative position and to communicate with people at different schools who I still keep in touch with. It's amazing the friends that you make. It's nice to go to the Annual Meeting and see these people again, see how they're doing and how they've progressed.
Finally, I would recommend applying for the AADR Mind Program either as mentee or to serve as a mentor. Participation in such programs demonstrates your (and your home institution's) commitment to building an inclusive academic workforce and a diversified vision for the future of science.