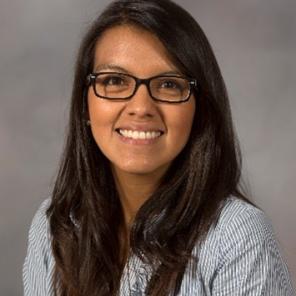 Susana Maria Salazar Marocho earned her B.D.S. from the University of San Martin de Porre, Chiclayo, Peru and her M.S., Ph.D. and completed her post-doctoral studies at the State University of Sao Paulo (UNESP, Campus São José dos Campos), Brazil. Salazar Marocho continued her postdoctoral studies at the University of Mississippi, Jackson where she is now an Assistant Professor in the School of Dentistry. Salazar Marocho's research focuses on dental ceramics, with an emphasis on their characterization, bonding, mechanical behavior, reliability, failure mechanisms and lifetime. Utilizing an integrative approach including standard and clinically relevant specimens, her research group is developing less expensive, less time-consuming and non-destructive methods for removal of high-strength ceramic restorations by using different settings of an erbium, chromium-doped: yttrium, scandium, gallium, and garnet (Er,Cr:YSGG) laser.
1. How did you first learn about AADR and what motivated you to join?
I learned about AADR when I was a student working on my M.S. in Brazil. My mentor at that time motivated me to join the Association. I clearly remember my classmates and me getting ready to write our first abstract in English to submit it to this well-known and big meeting, AADR, from which I had heard many comments from Ph.D. students and faculty members.
2. What do you find to be the most valuable benefit of AADR membership?
Citing only one benefit is hard. The AADR gives many career resources to his members regardless of their career level. Learning about the latest innovations in dentistry is always valuable. Besides that, I greatly enjoy attending the AADR meetings because they have given me the opportunity to learn from and meet with leaders not only within but also outside my research area, over years. There is definitely a lot of sharing and debriefing opportunities after lectures, posters and oral presentations. These interactions have challenged me positively as a researcher in many instances such as thinking differently on the work that I am engaged in, thinking critically in the things that I am doing and exploring new fields. I have been inspired by the wisdom of the stimulating distinguished speakers. I have also built meaningful friendships at the AADR meetings. Another valuable opportunity of the AADR membership has been to be selected as part of the first group of mentees of the exciting AADR MIND the Future.
3. You have been selected as a mentee for the inaugural class of the AADR Mentoring an Inclusive Network for a Diverse Workforce of the Future (AADR MIND the Future), congratulations! What motived you to apply for this program?
Thank you. I was excited by the opportunity to have a panel of experts that would train me and guide me through career issues, and who I can contact for specific questions. The idea of having a mentor during the program to help me with my professional needs captivated me immediately.

4. What excites you most about being part of AADR MIND the Future?
The AADR MIND the Future program represents a unique and valuable opportunity in my career. When I learned about the program, I knew it would be tremendously helpful to work under expert guidance on underdeveloped areas of my career, to increase the chances of achieving more substantial research funding and to gain more professional growth through the exchange of knowledge, ideas and viewpoints from experienced faculty.

5. What do you view as the best way for other members to become more involved in AADR and get the most out of the membership?
I believe members could become more involved if they are asked their input on the new things that AADR has under development, or by reaching out to them to learn their research/clinical challenges that are facing. I think that a short welcome and Q&A webinars to the new members will also capture the attention and engage more these new members. In my opinion, this is more interactive and will allow them to learn about the Association, how it works, opportunities and the roles of the different dental groups.