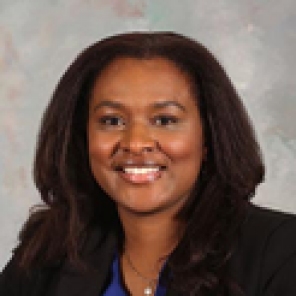 Suzette Laing is a third-year resident in the periodontics graduate program at the University of Michigan School of Dentistry, Ann Arbor. She graduated with her D.D.S./Ph.D. degrees in 2018 from the University of Texas Health Science Center at San Antonio where her doctoral research project was focused on hematopoietic stem cell-based therapeutics utilizing microRNAs for vascular regeneration. Dr. Laing is a Ruth L. Kirschstein NRSA F30 grant recipient, a Michigan Rackham Merit scholar and a Delta Sigma Delta Fraternity alumni.
1. How did you first learn about the AADR and what motivated you to join?
I heard about the AADR in college but was not really aware of all they did until my dental school orientation when I met and spoke to members of the local student research group. I joined the IADR/AADR as a student member to learn more about events, scholarships and funding opportunities that were available. This was one of the best decisions, as I had the opportunity to present my research at several local and international conferences and was a recipient of the AADR Research Fellowship.

2. Can you describe your research? How do you hope your work will impact others?
My research interests are in the development of therapeutic strategies for inflammatory disease processes and stem cell biology research. During my Ph.D. dissertation, my project was focused on vascular regeneration utilizing small non-coding RNAs and hematopoietic stem cell-based gene therapy. Once I graduated from the program at University of Texas Health San Antonio, I enrolled in the graduate periodontics program at University of Michigan, Ann Arbor. Here, my research is focused on exploring the role of epigenetics in inflammatory disease processes such as periodontitis. This also includes identification of disease markers that can be targeted by epidrugs and/or utilized for personalized medicine. While my research is in the early stages, I believe we are heading towards an era of personalized and precision medicine, which is really exciting. In the future, by combining stem cell biology and gene regulation, there is the potential to identify targets that can be used in development of novel therapeutics for disease management.
3. Can you describe your experience being a researcher from an underrepresented group in science?
My experience has actually been pretty great. I have always been a driven person that went after what I wanted. I think that comes from being not just a middle child but also a child of immigrants. Early on I expressed interest in math and science and my teachers took notice. This opened may doors for me and allowed me to participate in a summer research program during my senior year of high school. Once started college, I joined a lab as a technician and worked my way up the ranks. I graduated not just with my bachelor's degree but with my very first publication. I think part of my success comes from having a really great support system around me that includes family, friends and mentors. This is especially important as there have been times when things have not gone well, or I feel discouraged because it seems that I have to work harder for things than some of my colleagues, or I feel out of place as the only brown face in the room. However, this is when I refocus and ask myself why I am doing this, is it worth it and the answer has been yes so far J

4. Have you had the opportunity to mentor underrepresented minorities or work to increase diversity in science? If yes, can you describe your experience and what agencies/organizations you worked with?
I have always been a strong advocate for community service and mentorship. During my graduate and dental training at University of Texas Health Science Center at San Antonio, I was involved in the university's annual science Expo. This program hosted hundreds of minority high school students from all over Texas to encourage and educate them about pursuing careers in science and research. It was always a pleasure when I participated. I got to meet and motivate students that are genuinely interested in science, but maybe didn't know a career in the field was possible for them or for someone who looks like them.
In addition, as a graduate student I had the opportunity to mentor several high school students in my research laboratory as part of the University of Texas Health Science Center at San Antonio summer research program. Several of these students were from underrepresented minority groups.
5. Based on your experience, how would you encourage AADR members to help increase the diversity of the research workforce?
I think first understanding the necessity of a diverse work force is key. Once this happens then the effort to implement programs and policies to achieve this becomes easier. This can start with something as simple as reaching out to underrepresented student groups and making them aware of opportunities and resources available through the AADR for them to be involved in research. While in dental school, I was a member and officer of the local student research chapter and some of our most successful meetings were those focused on educating students on how they can become involved in research and programs/funding available to facilitate this.

6. What role do you think professional associations can play in supporting its members who are members of underrepresented minority/ethnic groups?
Professional organizations such as the AADR can support members of underrepresented minority/ethnic groups through implementing programs specifically tailored to professional development and mentorship. This includes increasing funding to support research projects and travel awards to meetings for young scientist to network and present their work. In addition, helping to connect new and young members with more established minority researchers that can mentor and be a resource would be invaluable.