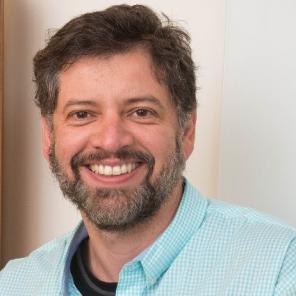 Alexandre R. Vieira is Full Professor of Oral Biology, Pediatric Dentistry Human Genetics, and Anthropology at the University of Pittsburgh School of Dental Medicine, PA, and also serves as Director of Student Research and Director of Clinical Research in the school. Vieira received his D.D.S .from the Federal University of Rio de Janeiro, Brazil, did a residency in special needs patients at the Brazilian Dental Association, then received his M.S. in Pediatric Dentistry, and Ph.D. in Genetics back at the Federal University of Rio de Janeiro.
Vieira created the Dental Registry and DNA Repository (DRDR), the only project in the world to keep DNA samples linked to a comprehensive dataset of dental clinical information, and the SDM Clinical Research Scholars Program, which supports eight clinical assistant professors in their research activities. He has published more than 400 peer-reviewed papers, editorials, letter to the editor, book chapters, and books, including the Genetic Basis of Oral Health Conditions.
He has mentored more than 200 students in his lab, from high school to post-docs, and has received a number of awards, including the Distinguished Scientist in Dental Caries Research Award from IADR in 2015, the William J. Gies Award for best paper published at the Journal of Dental Research three times in 11 years—the only person to do so in the history of the award.

1.    How did you first learn about the AADOCR and what motivated you to join? 
I grew up in a lower-middleclass family in Rio de Janeiro, Brazil. As a child I suffered from toothaches. Treating those proved to continue to be memorable since the dentist suggested there was no need for the use of local anesthetics. This experience and later his need for orthodontic treatment, which was done at low cost at a local residency program at the Brazilian Dental Association, piqued my interest in dentistry.
After completing my D.D.S., M.S., and Ph.D. at the Federal University of Rio de Janeiro, I had the opportunity to do my post-doc at the University of Iowa, Iowa City. I was already a member of IADR when I migrated to the United States. At the time, if I am not mistaken, the membership structure was changed to have members being part of their regional area groups, as well as to the IADR, so my membership to AADOCR (formally AADR) was compulsory. That made me understand the distinction between IADR and their regional members and all the opportunities that locally through AADOCR were now available for me.

2.    Can you describe your research? How do you hope your work will impact others? 
I created a research program that focuses on individual susceptibility to oral/dental/craniofacial conditions, combining my background of clinician with my training in genetics. My initial emphasis was on cleft lip and palate, and eventually I expanded our studies to cariology and then several other conditions. Today I realize that our work impacted people at two different levels. There were instances that our findings have provided families with information that helped then in deciding their pregnancy outcomes when craniofacial anomalies were present and detected prenatally. It has also provided clinicians with a way to explain to their patients why their individual risks may be different from other family members or friends. Today, the complexity of outcomes and dental treatment needs are routinely articulated to people as an interplay between their genetic background and the environment and how strategies that address the modifiable risk factors can be discussed and implemented.
3.    Can you describe your experience being a researcher from an underrepresented group in science? 
It is my perception that I always had to work twice as hard to receive half of the recognition. Particularly when I was younger, I was often second-guessed and even happened that I would have an opinion or proposal being quickly dismissed. It was only when I noticed that the same ideas coming from a different colleague would be received differently that I suspected that it was indeed me probably being from a minority group that may had something to do with it. To circumvent this, I focused in developing my communication skills, particularly in writing, and as a consequence our research group is highly prolific and worldwide recognized. 
4.    You are the 2021-22 AADOCR Vice President, thank you for volunteering your time! Why was it important for you to run for this leadership position? 
Running for Vice-president is the consequence of serving in several capacities before at IADR/AADOCR. I have been member and chair of several committees, served as president of three different IADR Research Groups (probably I am the first on record to have done that), and have actively participated in the annual meetings, always bringing my students, and organizing/presenting symposia and Lunch and Learning sessions. When my name was suggested for the ballot, I thought it would be my privilege to serve AADOCR in that capacity.

5.    Have you had the opportunity to mentor underrepresented minorities or work to increase diversity in science? If yes, can you describe your experience and what agencies/organizations you worked with? 
At my own initiative, yes. Both, providing opportunities and mentorship, to females and minorities, was something that I naturally incorporated in my research program, and then realized that the data showed that females and minorities were less likely to receive mentorship. I never had a chance to formally work with any agency specifically on diversity initiatives. 
 
6.    Based on your experience, how would you encourage AADOCR members to help increase the diversity of the research workforce? What role do you think professional associations can play in supporting its members who are members of underrepresented minority/ethnic groups? 
To address this issue of representation of minorities, we need to have more of them able to finish high school and go to college. The issue is at the origin; at the time individuals consider going to dental, medical or graduate programs, this pool is underrepresented by minorities. For the minority individuals that make the distance, professional associations could focus on having them be role models for the youth, so minority children aspire to cover that same distance for their own lives. The need will be over when we do not see the point anymore of referring to anyone as a minority. It may help accelerating this process if we stop using social constructs that are not based on any biology to define people. The disparities that exist today are the result of these nonbiological concepts being used to define public policy, from housing to medical care. There is no such a thing as human races, we are the same species.