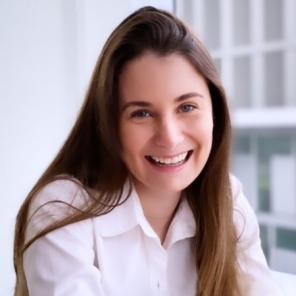 Ana Paula P. Fugolin, earned her dental degree, M.S., and Ph.D. in Dental Materials from the University of Campinas UNICAMP, Brazil. She has been fully engaged in research for the last five years at Oregon Health & Science University, Portland, as part of a multidisciplinary team focused on the development of innovative dental polymers with increased toughness, reduced contraction stress, antimicrobial activity, and higher resistance to hydrolytic and enzymatic degradation. Fugolin has been awarded a NIDCR Dentist Scientist Pathway to Independence (K99/R00) and is currently in a transition process to an independent faculty position. She is focused on designing polymeric biomaterials capable of retaining a set of specifically coded instructions by virtue of their chemical structure, enabling them to interact with the oral environment and perform a desired function on demand. Fugolin is the author of a patent, book chapter, and over 34 articles in peer review journals. She has been a member of the IADR/AADOCR since 2011, and is an active affiliate of the IADR/AADOCR Dental Materials group.
How did you first learn about AADOCR and what motivated you to join?
I first learned about the AADOCR while completing my master's degree in Brazil. We were encouraged to attend the meeting since it was an opportunity to be exposed to the most relevant research. Since I have started my postdoctoral program, more than just seeing what the outstanding researchers are working on, AADOCR has become a valuable opportunity to present the research developed in the lab, get feedback, and build a professional network. 
 
What do you find to be the most valuable benefit of AADOCR membership?
I believe the most valuable benefit of AADOCR membership is the opportunity to gather with like-minded people from across the globe, and have the chance to learn, discuss, network, and ignite motivation. 
You have been selected as a mentee for the 2021-22 class of the AADOCR Mentoring an Inclusive Network for a Diverse Workforce of the Future (AADOCR MIND the Future), congratulations! What motived you to apply for this program?
I am honored to be selected as a mentee for the new class of the AADOCR MIND the Future program, and excited about the wide range of knowledge I will be exposed to. I am truly grateful for the NIDCR, AADOCR, PIs, and all people involved in any level of this initiative.
Being a Latina woman in academia, I am faced with my ingrained cultural values and beliefs every single day. Over the years, I have realized that it is crucial to learn about different cultures and adapt my behavior in order to successfully build my career. Otherwise I would be doomed to fail, regardless of how well I technically develop my scientific skills. 
On the other hand, I realized that being of a diverse background may be one of my greatest attributes. Workplace diversity ensures creativity, innovation, and strength in terms of intellectual capital. Therefore, my goal is to develop my identity as an independent researcher within a model that supports the principle of cultural competence. This makes the mentorship provided by the AADOCR MIND the Future program a precious source of knowledge and training towards the development of my career. I am confident that this structured mentoring program will catalyze my blossoming as an independent scientist and empower me with the tools to boost my confidence to face my ongoing transition process. 
What excites you most about being part of AADOCR MIND the Future?
This structured mentoring program is designed to offer mentorship and training about the most important aspects related to the development of a new generation of investigators capable of establishing sustainable funded research programs and promoting workplace diversity. My participation in this program will assist my integration into a perpetually inclusive research landscape, help me to build an active professional and collaborative network, and develop a new skill set for future goals and milestones.