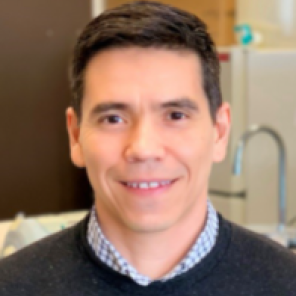 Bruno Lima is an assistant professor at the University of Minnesota, School of Dentistry in the Department of Diagnostic and Biological Sciences, Minneapolis. He received his dental degree from the Federal University of Rio Grande do Norte in Brazil and his Ph.D. from the Department of Microbiology and Immunology at Loyola University, Chicago. His research focuses on understanding how bacteria interact with their environment and the consequence of these interactions on their physiology. As a dentist, Lima is particularly interested in studying how different environmental interactions affect dental plaque development and whether these interactions can be manipulated to promote oral health. Lima's work is funded by NIH's National Institute of Dental and Craniofacial Research. He was awarded the AADOCR Procter & Gamble Underrepresented Faculty Research Fellowship and, in 2020, was selected for the inaugural cohort of the AADOCR MIND the Future Program
How did you first learn about the AADOCR and what motivated you to join? 
From a young age I knew I wanted a career in dentistry. However, after graduating from the Universidade Federal do Rio Grande do Norte, inBrazil, I realized that I liked research more than the clinic. I moved to the U.S. from Brazil in the early 2000s and eventually joined the Ph.D. program at Loyola University, Chicago. My work at the time was not related to dental research, so to keep in touch with dentistry I read articles published in scientific journals that published on dental, oral, and craniofacial research, like the Journal of Dental Research. It was through JDR that I learned about the AADOCR, and the numerous opportunities for students compelled me to join. 
Can you describe your research? How do you hope your work will impact others? 

Our overall goal is to understand how bacteria interact with their surroundings, including with other bacteria, and how these interactions affect multispecies biofilm development and human health.  
The human body is home to trillions of microorganisms living in organized multispecies communities collectively known as the human microbiota. The human mouth, for example, is home to hundreds of bacterial species that constantly share, exchange, and compete for resources. These interactions play an important role in shaping the oral microbiota, ultimately contributing to both local and systemic health. My current work investigates how environmental cues affect surface protein expression of the Gram-positive oral commensal Streptococcus gordonii and its effect on multispecies biofilm formation. 
Polymicrobial communities like the oral microbiota are ubiquitous and the forces that guide their development and organization are likely similar. Thus, we believe that by studying how oral microbes interact with each other and their environment to form microbial communities like dental plaque, we could develop new methods to prevent common oral diseases such as periodontitis and caries. Additionally, we might also learn a lot about how other complex microbial communities like the gut microbiota organize themselves. 
Can you describe your experience being a researcher from an underrepresented group in science? 

I never felt more like an outsider than when I moved to the US, and perhaps for obvious reasons. Physically I look Latino, and while I had a good command of English, I spoke with an accent (I still do). It was not uncommon for people to mistakenly assume that I spoke Spanish, even before I was able to tell them I had moved to the US from Latin America.  
This sense of not belonging and feeling like an outsider was particularly strong during the first few years of graduate school as I was the only member of an underrepresented minority group in my department. I have learned to maneuver through situations that can still make me feel like I do not belong, but I know how difficult it can be for students trying to pursue a career in science. Unless we find a way to make our environments more welcoming and inclusive, it will be extremely difficult to increase the representation of minoritized groups in science and STEM in general. 
You are currently a member of the AADOCR Committee on Diversity & Inclusion and will become Chair later this year. What motivated you to take on this role? 
While roughly 20% of the US population identifies as Hispanic/Latinx, according to the U.S. Census Bureau this demographic only represents 6% of full-time college faculty. Given this disparity and my experience as a Latinx researcher, I wanted to become more involved in shaping initiatives and measures to make our research community more diverse and inclusive. So, when I saw the call to serve in the ADDOCR Committee on Diversity & Inclusion, I immediately nominated myself. I was not selected to serve on the committee the first time I tried, but I felt strongly about issues related to diversity and inclusion, so I sent a self-nomination again the following year. 
I am now going into my third year on the AADOCR Committee on Diversity & Inclusion and earlier this year I was invited to serve as the chair. While trying to determine if I had what it took to take on such a role, I came across a report that said that when asked to think of ways to increase the number of underrepresented minorities who pursue college degrees in STEM fields, respondents mentioned that representation in leadership positions could be a strong factor.  
I am fortunate to serve on the committee with eight other fantastic dental, oral, and craniofacial researchers who are committed to making our community more inclusive and diverse. I hope that as Chair, I can signal to other folks who identify as members of an underrepresented minority group that they too belong here. 
Based on your experience, how would you encourage AADOCR members to help increase the diversity of the research workforce? 

I think good and supportive mentoring played a huge role in my success so far. I was fortunate to find extremely supportive mentors in graduate school and as a postdoc. They listened to me and helped me make connections that helped me tremendously at different stages of my career development. However, many others have made important contributions to my development as a researcher in ways that they probably didn't even realize. For example, I have vivid memories of great conversations with more established PIs during poster sessions in some of my first AADOCR meetings. These were often people whose papers I'd' read and who took the time to come to my poster and provide insightful and constructive feedback. These interactions made me feel like they wanted to see me succeed. 
Based on this experience, I would encourage all of us, particularly more established members of the AADOCR community, to visit the poster sessions, and attend trainee talks. Engage with them and make them feel welcomed and part of our research community. 
What role do you think professional associations can play in supporting their members who are members of underrepresented minority/ethnic groups?  
Professional associations can play an important supportive role for their members who identify as an underrepresented minority group. I can think of at least three extremely helpful initiatives: (i) the Mini-Symposium for Young Investigators, (ii) the AADOCR Procter & Gamble Underrepresented Faculty Research Fellowship, and (iii) the AADOCR MIND the Future Program. 
Both the Mini-Symposium and the AADOCR MIND the Future program helped me make strong connections within my scientific community and have contributed tremendously to my feeling at home here. The MIND the future program also helped me develop important skills, like grant writing, mentoring, and leadership skills. 
The AADOCR Procter & Gamble Underrepresented Faculty Research Fellowship provided financial support for the initial development of a research project, aimed to investigate the role of protein acetylation in Streptococcus gordonii biofilms. The data I obtained was used to help develop an NIH-NIDCR R03 research proposal, which got funded last summer!