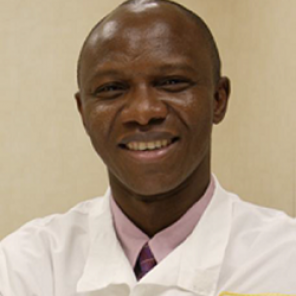 Christopher Okunseri is a Professor and Director of the Predoctoral Program in Dental Public Health at Marquette University School of Dentistry, Milwaukee, Wis. Okunseri is also an adjunct Professor at the Medical College of Wisconsin and a Diplomate of the American Board of Dental Public Health. He received his B.D.S. (equivalent to D.D.S.) degree from the University of Benin School of Dentistry, Edo State, Nigeria. Okunseri received his M.Sc. in Dental Public Health from the Eastman Dental Institute for Oral Health Care Sciences, University College London, England and completed a residency program in Dental Public Health at the Montefiore Medical Center at the Albert Einstein College of Medicine, Bronx, N.Y. Okunseri also received a Diploma in Dental Public Health from the Royal College of Surgeons in England, a fellowship certificate from the Royal College of Surgeons, Dublin, Ireland and holds a M.S. in Leadership Studies from Marquette University, Milwaukee, Wis. In May 2020 Okunseri was named president of the American Board of Dental Public Health.
1. How did you first learn about the AADR and what motivated you to join?
I first heard about AADR during my dental public health residency at Montefiore Medical Center, Bronx, N.Y. When I became an Assistant Professor at the University of Minnesota School of Dentistry, Minneapolis, I was motivated to join because it provided me a forum to disseminate my research findings. I submitted an abstract and it was accepted for presentation at a joint IADR/AADR meeting. The opportunity was excellent because I was able to interact with researchers presenting cutting-edge research in different areas from various institutions across the globe.
2. Can you describe your research? How do you hope your work will impact others?
My current research interests include the epidemiology of oral conditions, quality of care, behavioral science, health services research, preventive care services and oral health policy with an emphasis on the underserved and racial and ethnic minority populations. A disproportionate number of minorities have caries and periodontitis, but much of this is preventable. My work focuses on how policies and program can be used to address oral health disparities.
For example, my research findings following the evaluation of the impact of a state-level policy change on access to fluoride varnish treatment (FVT) for Wisconsin Medicaid enrolled children encouraged other states to implement similar policies.
Another example of the impact of my research came from an analysis of the National Hospital Ambulatory Medical Care Survey. From 1997 to 2007, painkillers were prescribed in three of four visits to the emergency department for dental complaints and roughly half of the visits resulted in a prescription for antibiotics. Over this period of time, the number of painkiller prescriptions for dental patients in emergency departments rose 26% and antibiotic prescriptions jumped 41%. This research on Emergency department (ED) visits for nontraumatic dental conditions (NTDC) was cited in the New York Times. In addition, my research on NTDC visits to ED contributed to its use as an indicator for measuring access to dental care at local, state and national levels.
3. Can you describe your experience being a researcher from an underrepresented group in science?
My experience as a researcher from an underrepresented group in science has been bittersweet. Everything in life comes with challenges, opportunities, and successes. I have benefited from senior colleagues, in particular Dr. Raul Garcia who is an AADR member. It was encouraging to see him as a successful minority researcher. I am thankful for NIDCR support and for the program officers who took a keen interest in my success. I would provide ideas and they would provide constructive feedback and help connect me with others in the dental, oral and craniofacial research field. It is important for a minority to not be afraid to reach out for help and mentoring.
4. Have you had the opportunity to mentor underrepresented minorities or work to increase diversity in science? If yes, can you describe your experience and what agencies/organizations you worked with?
I have been fortunate to have mentored many Underrepresented Minorities and increase diversity in science as an adjunct professor at the Medical College of Wisconsin, Milwaukee. Many of my students have gone on to get their master's degree and Ph.D. One of my students, Dina Garcia, has become very successful and she is making an impact on Latino oral health.
5. Based on your experience, how would you encourage AADR members to help increase the diversity of the research workforce?
The world is changing as is AADR. I encourage AADR members to be cognizant of the diversity within your affiliation, programs and labs. Creating a diverse workforce should be a goal that all AADR members have. A huge part of doing this is first understanding the needs, and then providing mentorship, resources and opportunities for growth for Underrepresented Minorities.
6. What role do you think professional associations can play in supporting its members who are members of underrepresented minority/ethnic groups?
One role that associations can play is to give underrepresented minority/ethnic groups a strong voice and a platform for support and recognition. Professional associations must identify their needs, challenges and provide opportunities and the ability for recognition and growth. If the needs and challenges are not recognized then no opportunities can be provided.