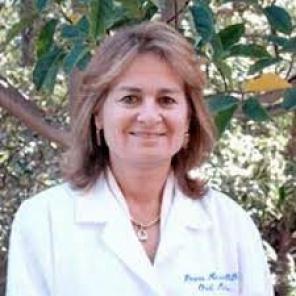 Diana Messadi is a professor and Chair in the Section of Oral Medicine, OroFacial Pain and Oral Pathology in the Division of Surgical and Diagnostic Sciences  at the University of California, Los Angeles, School of Dentistry. She also serves as the Associate Dean for Academic Affairs. Messadi received her dental degree (BDS) from the Faculty of Dentistry, Alexandria University, Egypt. In 1982 she traveled to the United States to pursue her postdoctoral training, obtaining a M.M.Sc., and a D.M.Sc., and a Certificate in Oral Pathology and Oral Medicine from Harvard School of Dental Medicine, Boston, MA. From 1987-89, she went back to Egypt and was appointed as an Assistant Professor of Oral Pathology at the Faculty of Dentistry, Alexandria University, Egypt. In 1989 she came back to the U.S. and started working at the UCLA School of Dentistry. Prior to her current appointment, Messadi served as Chair of the Section of Oral Medicine and Orofacial Pain from 2002-18 and as Associate Dean for Education and Faculty Development from 2015-18. She is currently Professor, Chair and Associate Dean for Academic Affairs.
As a dentist-scientist, Messadi's approach to teaching has always focused on bridging the biomedical and clinical sciences and integrating medicine and dentistry to emphasize the importance of oral health in general health. Her major teaching responsibilities are in the fields of oral medicine and oral oncology. She has been actively involved in didactic and clinical teaching for both pre-doctoral and post-doctoral students. Messadi chairs several courses in the "Oral and Systemic Diseases Track" which integrate biomedical and dental sciences in areas of disease diagnosis and management.
1.    How did you first learn about the AADOCR and what motivated you to join? 
I first learned about AADOCR in 1982 when I was a postgraduate student  and pursuing my M.M.SC and  D.M.Sc. at Harvard School of Dental Medicine Boston, MA. My first Annual Meeting was in 1984 and I've been a member since then, for close to 40 years.
2.    Can you describe your research? How do you hope your work will impact others?
I'm a professor of oral medicine so my clinical work is treating diseases of the mouth, complications of cancer and cancer therapy, and early detection of oral precancerous and cancer lesions. I started with basic science on wound healing, then I moved more towards clinical and patient orientated research. Now I'm working on oral cancer early detection and chemoprevention. Oral cancer is one of the 10 most common cancers in males and the 12th most common cancer in females. Oral cancer can affect the mouth, the tongue, speech, swallowing, and chewing, thus affecting patients' quality of life. Early detection is the key for best management and for saving lives. I always teach my students that we as dentists are responsible to detect cancer early on because it's visible in the mouth. It is not like lung, colon, or other cancers where it's hard to visualize with the naked eye. Taking two minutes of your time for oral cancer screening can save lives. 
Because of the COVID-19 pandemic I had to perform several teledentistry visits for my patients. Detecting lesions or precancerous conditions through video conferencing was challenging. What I'm working on now in collaboration with various universities and dental disciplines is to adapt a cheap, intraoral camera system with a web-based app that we can send to our patients to conduct an effective intra-oral exam through a video synchronous visit using the intra-oral camera as a guide. COVID-19 created many challenges but also opportunities, because of these opportunities we are now improving the use of Teledentistry platforms to provide a valuable service to our patients which can increase access to care for individuals and communities who are under-served and eventually decrease cost of care, and reduce oral health care disparities. 
3.    Can you describe your experience being a researcher from an underrepresented group in science?
I am originally from Egypt so I am a minority that is part of the North African/Middle Eastern region. Being a woman and being from this ethnic group is special—I look all around the country at senior professors and I don't see many in this category, which motivates me to be a role model for junior faculty that are also from this part of the world. Women are often expected to have a professional life and family life, so for me finding work-life balance was hard but feasible with family and peer support 
Research was important for my professional growth as an academician, and being part of the AADCR/IADR community for many years definitely enriched my research and network experience. 
4.    You are a mentor for the 2021-22 class of the AADOCR Mentoring an Inclusive Network for a Diverse Workforce of the Future (AADOCR MIND the Future). Thank you for volunteering your time! What motived you to be a mentor for this program? 
It is important for me to be a role model, especially for minority women like me. I've been very active in AADOCR, volunteering with IADR Scientific Groups/Networks and participating in committees and subcommittees. AADOCR/IADR has given me the opportunity to grow as an academician and a leader and I felt it is time for me to be part of the AADOCR diversity and inclusion efforts because of my diverse background. I hope that we can work together to make a difference and increase the number of minorities in research and academics.
5.    What role do you think professional associations can play in supporting its members who are members of underrepresented minority/ethnic groups? 
Increasing the number of minorities in research requires creating a cultural change in institutions and increasing the number of students and faculty from these groups. At UCLA we have postbaccalaureate programs for minority college students and even high school students, through the years these were shown to be valuable tool for increasing the number of disadvantaged and underrepresented students who matriculate into medical and dental schools. I also commend NIH/NIDCR for their efforts in promoting diversity in health-related research by offering several awards to improve opportunities for research from underrepresented racial and ethnic groups.