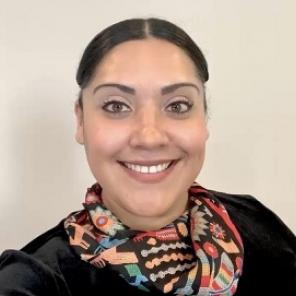 Dina T. García, is a Xicana scholar born in Guadalajara, Jalisco, México and raised in Milwaukee, Wisc. Currently she serves as an Assistant Professor in the Department of Health Behavior and Policy at the Virginia Commonwealth University (VCU) where she directs the Kalpulli Research Group and is also a faculty affiliate with the iCubed Oral Health Transdisciplinary Core. Her research program examines the social and structural determinants of oral health inequities with the goal of developing community-based interventions targeted at different causal pathways. She is formally trained in community-based participatory research, qualitative and quantitative methods as well as science communication. Her freelance work has appeared in popular publications such as CNN Español. García was selected for the inaugural cohort of the AADOCR MIND the Future Program funded by the National Institute of Dental and Craniofacial Research. She is a graduate of the 2016 Linton-Poodry Society for the Advancement of Chicanos and Native Americans in Science (SACNAS) Leadership Institute, founder of Cientificas de Milwaukee and a 2017 American Association for the Advancement of Science Mass Media Fellow.
1. How did you first learn about AADOCR and what motivated you to join?
During my doctoral studies in the Public and Community Health Program at the Medical College of Wisconsin, Milwaukee, I was interested in conducting oral health disparities research. However, no faculty in my doctoral program conducted research in that field or was involved with the AADOCR. This led me to connect with Dr. Christopher Okunseri at the nearby Marquette University School of Dentistry, Milwaukee, Wisc. He mentored me through my first research manuscript (and later also mentored me on my F31 fellowship) and encouraged me to join the AADOCR. With his support I became a member and presented my research at the 43rd Annual Meeting of the AADOCR in Charlotte, N.C. I still vividly remember that poster session because various people stopped by to chat and provided constructive feedback on my research. Attending my first AADOCR meeting was a very positive experience that made me feel welcomed and motivated to persist within this field.

2. What do you find to be the most valuable benefit of an AADOCR membership?
The most valuable benefit of an AADOCR membership is having access to the broad network of scholars and practitioners in dental research. It is precisely through networking at an AADOCR annual meeting that I first met Drs. Steve Levy and Christopher Squier. Never would I have imagined that my conversation with them at an AADOCR meeting would later lead to a postdoctoral fellowship in the T90 Institutional Training Program in Oral Health Research at the University of Iowa College of Dentistry, Iowa City. That fellowship played a crucial role in solidifying my interest to remain in oral health research and to pursue a tenure-track faculty appointment afterwards. That is just one example of how networking events at the AADOCR meetings can lead to profound impacts in one's career.

3. Tell us about your recent research focus. How has being involved with AADOCR impacted your research?
My research program centers within the broader umbrella of health equity research with a focus on examining the social and structural determinants of oral health disparities. As a social scientist trained in community-based participatory research, my research recognizes, values and integrates the existing forms of knowledge and community cultural wealth present across communities. For example, my community partners and I recently received a Health Equity Grant to develop a Community Advisory Board of local community leaders to address the oral health needs of refugee populations in Central Virginia. In the past, I have also collaborated with Mexican artists in my hometown of Milwaukee to communicate the findings of my dissertation focused on diabetes and oral health. The art pieces were subsequently shared with the broader community via an exhibition that opened during National Diabetes Awareness Month. The AADOCR has been integral in connecting me with dental public health scholars that have mentored me and connected me to resources and opportunities to grow my research program. Support from the broader dental research community is especially important for scholars like myself that are not formally trained dentists and that completed doctoral training in a different field. Without their support, oral health would probably not have been a key focus of my research program.

4. You were selected as a mentee for the inaugural class of the AADOCR Mentoring an Inclusive Network for a Diverse Workforce of the Future (AADOCR MIND the Future), congratulations! What motived you to apply for this program? What excites you most about being part of AADOCR MIND the Future?
As a tenure-track faculty in a School of Medicine, developing an independently funded research program is a crucial element in my evaluation for tenure. According to the National Center for Education Statistics, in 2017 Latinas made up 1% or less of the total of full-time professors in the U.S. As the only Xicana faculty in my department, it is imperative that I participate in programs that will continually support my development into a successful independent investigator, and consequently, my journey towards tenure. As such, my motivation to apply to the AADOCR MIND the Future program was due to its focus on establishing a mentoring network to support early career investigators that are historically underrepresented in the biomedical, clinical, behavioral and social sciences. I can attest firsthand to the vital role that mentorship has had in my journey thus far. Therefore, applying to this program felt like an important element for my journey to thrive and persist in academia.

5. What do you view as the best way for other members to become more involved in AADOCR and get the most out of the membership?
Each and every one of us has innate power that collectively can transform research and academia. Mobilization towards social change, however, requires us to not just know each other but to collaborate across fields and disciplines to generate innovative research and to use our collective power to mobilize towards action. Indeed, the best way for members to get the most out of their membership is to enact power and collaborate with the vast network of scholars within the AADOCR network.
Dina T. García, is a Xicana scholar born in Guadalajara, Jalisco, México and raised in Milwaukee, Wisc.