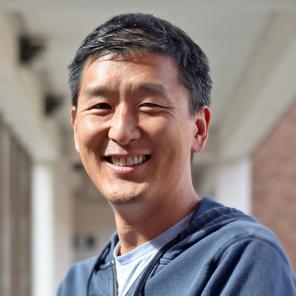 Donald L. Chi is professor and the Lloyd and Kay Chapman Endowed Chair of Oral Health at the University of Washington School of Dentistry (Seattle, USA) and is Associate Dean for Research (effective 7/1). Chi is Co-Director of the NIDCR-funded T90/R90 training grant. He is dual board-certified in pediatric dentistry and dental public health. His research focuses on understanding the causes of oral health inequities and addressing them through community-based behavioral interventions and evidence-based policies. He received the 2017 IADR Distinguished Scientist Award and was named Pediatric Dentist of the Year by the American Academy of Pediatric Dentistry in 2018. In 2021, Chi was appointed Editor-in-Chief of the International Journal of Paediatric Dentistry. He teaches public health and provides comprehensive dental care as a staff pediatric dentist at the Odessa Brown Children's Clinic in Seattle.
How did you first learn about the AADOCR and what motivated you to join? 
I was a second-year dental student when I learned about AADOCR. My mentor, Peter Milgrom, encouraged me to submit our summer research findings to the AADOCR meeting. Our abstract was accepted, and it was the first time I presented my work at a scientific meeting. That meeting is what got me hooked on research. As part of that process I joined AADOCR in 2004, and I've been a member ever since.
Can you describe your research? How do you hope your work will impact others?
I am a board-certified pediatric dentist, and my training is in public health. My scholarship focuses on two lines of inquiry: understanding the causes of oral health inequalities and developing solutions to address them. I work on clinically relevant, persisting challenges in our field that affect vulnerable individuals and communities, which helps to ensure that the work I do can have impact on lives.
Can you describe your experience being a researcher from an underrepresented group in science?
I have insight into what it's like to be part of vulnerable and stigmatized subgroups – but also recognize my personal attributes that translate into privilege. I grew up in a working poor immigrant family. I am gay, Asian, and a cis male. I speak English and I have degrees from prominent U.S. research universities. My background informs not only the questions I ask, but how I work with communities to find answers and, most importantly, the process by which I partner with communities to co-develop solutions. I recognize my privilege and use it to prioritize research that is responsive to the needs of vulnerable communities.
You have served on many Committees with the association, as well as a mentor for the MIND the Future mentees. What motivated you to get so involved, and how do you think the MIND the Future program's will encourage and support its mission of increasing diversity?
My mentors taught me early on that mentoring is an important part of being a scientist. We need a strong pipeline of dental researchers. I define strength as a workforce that is diverse and reflective of communities in need, and the dental research community is more diverse now than when I started. And yet, we have a long way to go. Women researchers continue to face barriers in science, including sexism and misogyny. Minority researchers face racism and white supremacy. The entire dental research community suffers when these problems persist. I got involved with MIND the Future to give back to dentistry and work with early career scholars who are the future of our profession.
Based on your experience, how would you encourage AADOCR members to help increase the diversity of the research workforce?
Individuals can only do so much to directly influence workforce diversity. I am at the University of Washington, which has put a lot of resources into campus-wide diversity initiatives. Institutional commitment is crucial in improving diversity. One challenge is how institutional initiatives are interpreted and implemented within local units (in my case, the dental school). There can be significant resistance. Another challenge is that diversity initiatives tend to focus exclusively on recruitment. Less attention is devoted to retention, including efforts to make sure that recruits are happy and feel supported. However, there are things we can do as individuals. I would encourage AADOCR members to think about ways in which their own immediate work environments and spaces can be further diversified and how existing diversity can be nurtured.
What role do you think professional associations can play in supporting its members who are members of underrepresented minority/ethnic groups? 
Professional organizations play a critical role in supporting its underrepresented members. Examples are formal and informal programming during annual meetings, lobbying for resources to support diversity programs, and implementing policies within the organization to promote change. MIND the Future is a great example of an organization investing in its most valuable asset, their members. These investments have great potential to yield benefits to individual trainees as well as our profession and society.