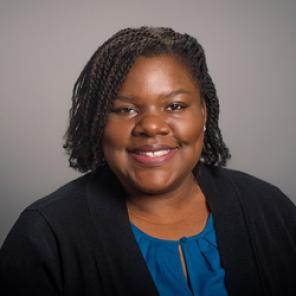 Jessica A. Scoffield is an Assistant Professor in the Department of Microbiology at the University of Alabama at Birmingham (UAB). She received her BS and MS degrees in Biology from Tuskegee University and her PhD in Microbiology from Auburn University.  She completed her postdoctoral training at UAB as a Dental Academic Research Training (DART, T90) Scholar where she studiedthe antimicrobial roles of oral commensal bacteria. Her work has been funded by a National Institute of Dental and Craniofacial Research Pathway to Independence Award (K99/R00) and she was the inaugural recipient of the AADOCR P&G Underrepresented Faculty Research Fellowship. She is currently funded by a National Institute of General Medical Sciences Award (R35).  Her laboratory studies the role of oral commensal streptococci on microbial pathogenesis and host immunity during polymicrobial infections. She is the President of the Alabama Section of the American Association for Dental, Oral, and Craniofacial Research. 
How did you first learn about AADOCR and what motivated you to join?
I first learned about AADOCR when I began my postdoctoral studies in the lab of Hui Wu. He informed me about the association, annual conferences, and vast scholarly and networking opportunities available through AADOCR. At that time, I was new to oral microbiology research so I wanted to learn as much as I could about the oral health scientific community. Joining AADOCR proved to be very beneficial in facilitating my research transition and setting me up for long-term success in academia.

What do you find to be the most valuable benefit of AADOCR membership?
The most valuable benefit of AADOCR membership is networking within the Microbiology and Immunology Group and developing meaningful collaborations.  This community has been a valuable asset for my professional development and has given me opportunities to serve in leadership roles that may not have been accessible to me elsewhere.
What motivated you to apply for the AADOCR P&G Underrepresented Faculty Research Fellowship, and how did receiving it affect you and/or your career? 
I was motivated to apply for the AADOCR P&G Underrepresented Faculty Research Fellowship because I wanted to increase the visibility of scientists from diverse backgrounds who are conducting independent research at an academic institution. I wanted to serve as an example for those who are coming after me to show that this scientific journey is attainable, and it was such a special honor to be selected as the inaugural recipient of this fellowship.  I was awarded the fellowship less than a year after starting my laboratory, which was a time when we were working in overdrive to generate data for grants, publications, and student projects. The fellowship helped us generate data for our first few publications, and these publications were instrumental in my lab being awarded a major grant from the National Institutes of Health. This domino effect of positive outcomes really propelled my career to the next level. 

Are you going to this year's AADOCR Annual Meeting? If so, which parts are you most looking forward to?
I will be attending this year's AADOCR Annual meeting and I am looking forward to learning about new scientific discoveries that are on the horizon. I am also excited about reconnecting with my oral microbiology peers.

What is the best way for other members to become more involved in AADOCR and get the most out of the membership?
The best way to become more involved is to participate in the annual meeting!  Submitting an abstract and presenting your research is an excellent way for members at all levels to showcase their work, develop their ideas, get feedback, network, and establish new collaborations.