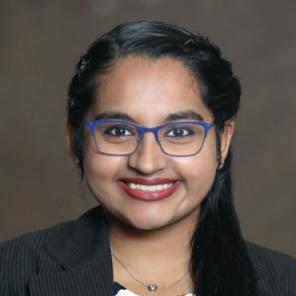 A dancer, a daughter, a sister, a teacher, and a lifelong learner are all layers of Drashty's identity as a dentist-scientist in training. She grew up in India and moved to the U.S. with her family in 2011. She is a proud Ram-Hoosier, having attended Virginia Commonwealth University for undergrad education and is currently pursuing a DDS/PhD at Indiana University School of Dentistry. When not actively crafting dental puns or pipetting in lab, she loves to sing along the soundtracks of Hamilton (the musical) and Encanto, try to make fancy baking treats inspired from the Great British bake off, and embroider.
How did you first learn about AADOCR and what motivated you to join?
I learned about AADOCR when it was still AADR, through our director of student research at IU Dentistry, Dr. Angela Bruzzaniti and my principal investigator/mentor, Dr. Simone Duarte, who is serving as our Indiana AADOCR president this year. So, it was kind of an insider advantage! But truly, both of them really motivated me to apply and present my research at the 2021 IADR meeting in July, and once I presented and attended numerous poster sessions, presentations, and symposia, I really started to realize that dentistry research can look so different based on all the different fields that dentistry can encompass – it's so much more than being a student and being on chairside care for a patient! It all got me thinking of the larger community and learning new discoveries on a daily basis. As a student, it's imperative to keep our curiosity up and become lifelong learner. That was the biggest motivator for joining and being an active member of the AADOCR.
What do you find to be the most valuable benefit of an AADOCR membership?
I think as a student, because of the rigor of our dental school curriculum, we sometimes are not given the chance to explore dental research on an international level. Being a member of an organization that connects physicians, scientists, and clinicians from all corners of the world really provides a plethora of new perspectives. I'm seeing culture and science through different lenses and as a student, it's very rewarding. We're working with so many different types of patients from diverse backgrounds, so my involvement in AADOCR trains me to become a community leader and a research advocate while pursuing a career in dentistry. I think that having exposure to cross-cultural leadership in patient care and research is an essential piece of the dentist-scientist toolkit.
Tell us about your research; how has being involved with AADOCR impacted your research?
I just finished my second year before joining MRSP fellowship 2021-22 cohort. In my two years at IU School of Dentistry, my research was focused on oral microbiology and behavioral sciences. In terms of oral microbiology, I was working with Dr. Duarte on developing biofilms to be treated with a novel, low-temperature plasma gas for treating periimplantitis. My background was in microbial ecology, so the Duarte biofilm lab gave me the perfect platform to learn more about adaptations in oral biofilms and interactions with host tissues. I also was very fortunate to work with Dr. Stuart Schrader and Dr. Armando Soto, who focus on biopsychosocial research arenas in dental public health. With them, I worked on an international behavioral science project surveying positive-traumatic growth trends at various time points during the COVID-19 pandemic in clinicians, healthcare students and staff across 3 different nations. 
One of my biggest goals as an incoming MRSP Scholar from a dental field was that I really wanted to understand oral health from an overall health perspective. I chose to be in the field of oral immunobiology and am currently working with Dr. Jacqueline Mays, who is primarily focused on learning the oral manifestations and immunology effects of chronic graft versus host disease. I am learning a lot about different effects of this chronic systemic disease in patients who receive hematopoietic stem cell transplants. Every day, I am increasing my understanding of site-specific immune response in the oral cavity and the complexity of many immune cells involved in protection as well as alterations in host tissues. When I attended the AADOCR 2021 meeting, I got to listen in on a lot of new discoveries in salivary proteomics and regeneration, which got me thinking about pursuing a DDS/PhD program, focusing on interactions between oral immunobiology and interactions with the microbiome. AADOCR has been a key player in helping me make that decision, and helping me realize that research doesn't have to stop after MRSP. Learning the connections between dentistry and overall health is the next step in dental research.
You have been selected to the 2021/2022 class of the National Institute of Health (NIH) Medical Research Scholar program. Congratulations! What are you most excited about this program and how do you think it will impact your research?
MRSP focuses on three major goals for all of the scholars: 1) We hone our understanding of sciences and how to decipher scientific literature through journal clubs, 2)  We learn to build our research networks through the clinical research teaching grand rounds given by different investigators across the NIH campus, who present their research and talk about their career paths. 3) In the process of discovery lecture series,  we hear from physician scientists who provide us with a very good perspective on the process of science and how can we, as a group of emerging healthcare providers can contribute to growing health sciences research. MRSP really helps with our professional development, our oral presentation skills, and how to bridge the gap between science and societies. 
We also gain exposure to the interprofessional environment; as a dental student, I often felt isolated from other branches of health sciences as I was always in one building. The MRSP program offers multiple opportunities  to interact with people from all aspects of healthcare fields. It helps open our eyes to the fact that once you start your career, you're going to be part of a healthcare community. Being an advocate for dentistry also means being a learner and follower of all different healthcare fields. Some of my biggest takeaways are to ask myself how I can develop professionally as a physician scientist; how do I communicate my research better with different societies and communities; and how can I best continue to contribute to this interprofessional collaborative environment?
What do you view as the best way for other members to become more involved in AADOCR and how can they get the most out of their membership?
Attending the virtual meetings, participate in the free webinars, or simply be curious about research and reach out to anyone who is within the field that you're interested in. If you're very new, just reach out to the director of student research at your institute(s) and express your interest. As an out-of-state graduate student, I was not aware of all faculty investigators at IUSD. So, I simply reached out to a handful of them during my first semester to set up a meeting.  It was very refreshing to learn about their paths, ongoing research activities and potential project(s) that fit my interests. 
Our schedules as dental students are full, and it's hard to balance everything.  We only have four years to grow confident in our clinical and patient care skills. Hence, being actively involved in organizations like AADOCR and meeting fellow dentists, students,  and researchers can really enable us as students to contribute and learn. Build a partnership for yourself and for your school; attend meetings; go in asking one question, but walk away with 10 new answers. That's the beautiful part about becoming a member of AADOCR. I can always look at all the different threads that come every day into my email, from a wide range of people talking about the importance of oral microbiology research and the importance of working together and understanding the science behind vaccines. That's the hot topic, with a lack of communication about that science; I don't think people are afraid of the science – I think they just don't understand the process. That's where we can come in, to help explain what we're doing so that others aren't perplexed about treatments. Even if an individual isn't actively involved in research, they can be up to date on it through their membership.