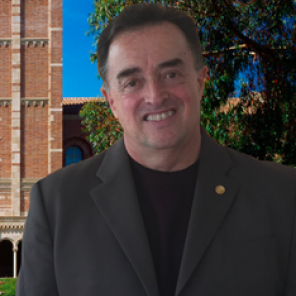 Francisco Ramos-Gomez is a Professor of Pediatric Dentistry at the University of California, Los Angeles (UCLA) School of Dentistry, the Executive Director for the UCLA Center for Children's Oral Health and the Interim Chair of the Division of Growth and Development. Throughout his career of over 38 years, Ramos-Gomez's research has focused on early childhood caries prevention, oral disease risk assessment and community health with an emphasis on underserved and vulnerable populations. In addition to clinically based interventions, Ramos-Gomez co-founded the Center to Address Disparities in Children's Oral Health to identify the cultural, environmental, workforce, behavioral and biologic factors associated with health disparities among ethnic/racial groups. He has been funded by NIDCR for the last 23 years to continue his work reducing oral health disparities in children.
As a proponent of public and global health, Ramos-Gomez has received numerous accolades throughout his career, including the Kellogg Fellowship for International Research, the National Dental Association Foundation/Colgate-Palmolive Faculty Recognition Award for Research and the IAPD Innovation Award. He is a nationally and internationally recognized speaker and a Fellow of the College of Dentistry, as well as a Fellow and Diplomate of the American Academy of Pediatric Dentistry.
1. How did you first learn about the AADR and what motivated you to join?
I have been a member of AADR since 1995. The mission and vision of AADR — to drive dental, oral and craniofacial research to advance health and well-being through discovery and dissemination — aligns with my passion as an academician, educator and activist in the field of Pediatric Dentistry.
2. Can you describe your research? How do you hope your work will impact others?
In my career of over 30 years as a pediatric dentist, my research has focused on Early Childhood Caries (ECC) prevention, oral disease risk assessment and community health with an emphasis on underserved populations. I have worked to pioneer protocols in early detection, early intervention and prevention of ECC and co-founded the Center to Address Disparities in Children's Oral Health to identify cultural, environmental, workforce, behavioral and biological factors associated with health disparities among ethnic/racial groups in order to enhance the ability of health care professionals to target children at high risk for dental caries.
Currently, I am the Interim Chair of the Department of Growth and Development at UCLA School of Dentistry and the Principal Investigator of the HRSA-funded Community Access Reach Education in Pediatric Dentistry (CARE PD) program. The focus of CARE PD is to expand interprofessional education and practice in collaboration with pediatric and family medicine, pediatric and family nursing, pediatric and general dentistry and public health. Additionally, we are working to expand health care services for low-income and underserved urban, rural and migrant populations.
I am also that founder and director of the UCLA Center for Children's Oral Health (UCCOH), a multidisciplinary initiative that uses evidence-based research translated to clinical care to achieve policy developments and advocacy in in the interest of improving children's oral health. We collaborate with professionals from the fields of medicine, nursing, public health and public policy and work closely with community partners like Early Head Start (EHS) and Head Start (HS), Women, Infants and Children (WIC) and local Federally Qualified Health Centers (FQHCs) to increase access to oral health care and advocate for children's oral health as a matter of social justice, health equity and human rights.
3. Can you describe your experience being a researcher from an underrepresented group in science?
There are many challenges because you constantly have to justify and prove yourself, and you have to work especially hard to succeed. You are always seen under a magnifying glass. You have to understand the challenges of dealing with community-based participatory research, where you have to be very sensitive to the community's needs, preferences and desires which might not match yours or the research you are proposing. You have to be humble and a good listener. You have to be very present and make sure that both parties understand the partnership approach, which has to be equitable. So you have to include others in the decision-making in order to build the strengths and resources of the community, as well as to build trust. You also need to identify benefits for the community and find ways to keep them involved in your work. I strive to work with members of the community to understand community problems and empower community members through the research. A lot of the work we do should be based on reflection, data collection, advocacy and some implementable actions that aims to improve oral health and reduce oral health disparities through the involvement of people that are directly represented in this group. As a researcher, I aim for a holistic approach and to lead a team that recognizes the power of community participation.
4. Have you had the opportunity to mentor underrepresented minorities or work to increase diversity in science? If yes, can you describe your experience and what agencies/organizations you worked with?
Through my work at University of California, Los Angeles as well as University of California, San Francisco I have had the opportunity to mentor numerous students and residents, many from underrepresented minorities. As a Latino academician who has had to work very hard to succeed, I am sensitive to the trials faced by ethnic minorities in academia. Therefore, I have been determined in my career to create more inviting environments towards underrepresented minorities and socioeconomically underprivileged populations through my teaching, research and service.
I currently chair the international Advanced Clinical Training (ACT) pediatric program within the School of Dentistry. In this position, I am able first hand to see the difficulties and challenges students coming to foreign cultures face. My role includes mentoring these students over a range of very diverse challenges: emotional, financial, social, cultural and academic. In the School of Dentistry, I have served on the Diversity Committee since 2009, ensuring that each class year provides an opportunity to students from all backgrounds to be heard within the School. Dental students come from the full range of academic disciplines prior to coming into the dental program and this on occasion poses particular challenges academically. A student with a background in anthropology will face quite different academic challenges from someone who majored in the biological sciences. But each will face challenges. The students are also culturally very diverse as we aim to create as diverse a student population as possible. However, that often poses its own set of challenges particularly for students from minority groups where they might not have a large community in the school for social and emotional support.
5. Based on your experience, how would you encourage AADR members to help increase the diversity of the research workforce?
There are many ways for AADR members to get involved and support diversity. Among them are prioritizing mentorship and investing in young professionals from diverse backgrounds as early as dental school, helping them and mentoring them from the early stages of their careers, exposing them to opportunities in the field. Members can encourage underrepresented researchers to apply for opportunities like the Harold Amos Award, which aims to increase the number of faculty from historically disadvantaged backgrounds by supporting individuals who will encourage and foster the development of succeeding classes of such physicians, dentists and nurse-scientists. AADR members can advocate for gender and race diversity. Diversity produces a much stronger team and improved collaboration, increasing success by driving scientific discovery to be more innovative, more inclusive and to match the needs of the community you are trying to serve.
6. What role do you think professional associations can play in supporting its members who are members of underrepresented minority/ethnic groups?
Professional associations are in a unique position to impact the expansion of diversity. They can strive to support diversity with an inclusive approach that welcomes and embraces different socioeconomic, ethnic and gender groups. Associations can also work closely with the deans of dentistry to encourage and promote diversity nationwide. We have a responsibility to ensure that there are funding and career advancement opportunities for members from underrepresented groups and to support them in those endeavors. Commitment to the important values of diversity and inclusion will have far-reaching impacts. In addition, we should commit to vulnerable communities by positioning children's oral health as an issue of equity, social justice and human rights.