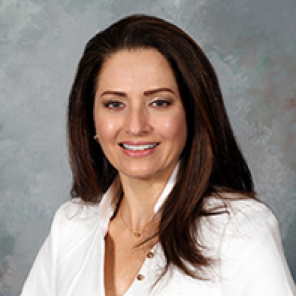 Gisele De Faria Neiva graduated from The Federal University of Paraná School of Dentistry, Brazil, in 1991. She has earned two master's degrees: a master's in Restorative Dentistry from the University of Michigan, School of Dentistry, Ann Arbor, in 1997 and master's in Clinical Research Design & Statistical Analysis from the University of Michigan School of Public Health OJ/OC Program in 2005. Neiva has been involved in clinical and laboratory research for over 20 years. Her initial work focused on laboratory materials testing studies of composite resins, resin cements, and dental ceramics resulting in a number of publications in peer-reviewed journals. For the last twelve years, she has been collaborating on several large randomized clinical trials of CAD/CAM and digital dentistry technology applied to restorative dentistry. Currently underway clinical research projects include randomized longitudinal studies of chair-side CAD/CAM generated ceramic onlays and crowns with novel ceramic materials and adhesive cements. She is prospectively following up restorations that were previously placed in three different projects and documenting data following USPHS criteria. Dr. Neiva is also studying in vitro surface roughness of chairside CAD/CAM restorations of various materials.

1.    How did you first learn about the AADOCR and what motivated you to join? 
I was introduced to AADOCR (previously AADR) as a student member while completing my master's program in Restorative Dentistry at University of Michigan, in Ann Arbor. I have been an IADR/AADOCR member since the 1990s. 
As a graduate student, there was always an expectation that we should present an abstract at a national meeting but up until then I'd never been to a large-scale dental meeting before. I remember well my first AADOCR meeting, and the exhilaration of networking with so many colleagues from different countries. There were research presentations every 15 minutes, and I had the opportunity to hear and meet the researchers that publish the articles you only read about. 
That to me was an eye opening experience. Attending the AADOCR/IADR meeting might have been a requirement as a graduate student, but once I appreciated the numerous benefits of the Associations I knew I wanted to become more engaged, so I've been a member ever since. Now as current director of the program that I once was student of, I encourage my students to submit their abstracts to AADOCR/IADR and make it a point to attend the meetings each year. I have also contributed several times as session Chair and more recently as a member of the AADOCR Committee on Diversity and Inclusion (CDI). 

2.    Can you describe your research? How do you hope your work will impact others?
I am a clinician, so I do clinical research. My focus is on chairside CAD/CAM, which involves the fabrication of indirect restorations on the same appointment through a digital process. When you look at the many possibilities that can be explored for research in this arena, I focus on the longevity of CAD/CAM restorations in longitudinal clinical trials. It is important to observe and document how CAD/CAM materials hold up in the oral environment after several years of clinical use. The information gathered from these studies help doctors make clinical decisions based on current evidence of clinical performance and longevity. 
Clinical studies are generally done in collaboration. I am fortunate to be part of a clinical research team of well-trained and calibrated operators and evaluators. It is exciting to observe these restorations longitudinally, especially when only minimal changes can be documented over time. My research has the potential to identify materials that may have a greater chance of survival and therefore benefit others as they make clinical decisions based on documented evidence of success.
As an educator, my research also gives me the opportunity lecture from the evidence perspective. When you speak from evidence, it gives you that level of assurance that you're making the right choice based on the truth about what's out there and the best evidence at the time.

3.    Can you describe your experience being a researcher from an underrepresented group in science?
I believe that most underrepresented people in science and education that have a voice is because somebody was willing to give them an opportunity. At least this has been my experience. In my case, it took a colleague appreciating the quality of my clinical dentistry and offering me an opportunity for collaborative work. This is how I ended up receiving training in chairside CAD/CAM workflow. Being included in a well stablished research group allowed me to have visibility for my work. 
I bring a unique perspective to our clinical research group. My background in Clinical Research Design and Statistical Analysis enables me to have significant input on study design and assessment criteria while the mastery in CAD/CAM allows clinical input on processes and workflows. As an underrepresented minority I add value to the team and when you feel that way, not only do you deliver your best, but you deliver to an excess beyond because you feel valued. It is a really great feeling when you can be part of a team like that. 

4.    So have you had the opportunity to mentor underrepresented minorities or to work to increase diversity in science?
I have been a Program Director at the University of Michigan for the past several years and many of my students are from underrepresented minorities. I believe this is one of the main reasons our program is so successful. Our admissions committee focuses not only on selecting the best candidates but making a special effort to recruit candidates from diverse backgrounds. As a result, class discussions are very interesting as there are often different perspectives and several ways to solve the same problem.
I take great pride in that the majority of our students go further in research and academia and become scientists and professors in many universities in the US and abroad. The success of my students is my greatest contribution to diversity in science. 
 
5.    You are a member of the AADOCR Committee for Diversity and Inclusion. Thank you for volunteering. Was it important for you to join this committee?
It was very important for me to join because I want to make a difference in science and be a spokesperson for women, and those that are from my particular underrepresented group. 
I want to be a voice but I also want to listen to people with different perspectives and learn from them. The AADOCR Committee on Diversity and Inclusion presents a great platform for me to be exposed to a diverse group of forward-thinking people from other institutions. Through our discussions I often learn that our challenges are similar but each of us have unique solutions, make innovative suggestions and share interesting points of view.  
I highly recommend anybody that wants to become more involved with AADOCR/IADR to consider volunteering as a member of the AADOCR Committee on Diversity and Inclusion. This is a welcoming group of people united by the common goal to foster diversity, equity and inclusion so there is never a wrong answer!

6.    Based on your experience, how would you encourage AADOCR members to help increase the diversity of the research workforce?
The first step to increase diversity is to become an example and then motivate others to follow and lead by example. "When people say you can't do it, that's when you need to show them you can, and better than they've ever seen! I get very excited when somebody tells me I can't do something, I just love it, because then I know I'm going to be successful." That is how you increase diversity, by taking action, by being the example and by inspiring people follow you; letting them see it's possible. 
Associations like AADOCR/IADR can help increase diversity of research workforce by promoting an inclusive environment for researchers to present their work and their innovative thoughts and ideas. Also by encouraging networking and creating a sense of community.
Networking is very important. By creating a platform for networking the AADOCR/IADR allows for visibility and opportunities to arise. When you identify yourself in a group like the AADOCR/IADR or when you are from an institution that welcomes diversity and inclusion, those who are underrepresented feel empowered.