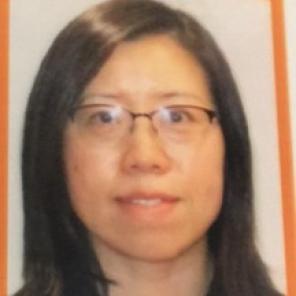 Guiqin Xie earned her M.D. and Ph.D. from Nanjing Medical University, China. She currently is a postdoctoral fellow at the Howard University College of Dentistry in Washington, DC and has been fully engaged in research in head and neck cancer. The research team, committed to provide a diversified and inclusive environment, consists of multidisciplinary researchers, including numbers of minority students at Howard University who attend research training for their future development. As part of the multidisciplinary team focused on the development of innovative therapeutics for head and neck cancer, Guiqin has been actively pursuing an independent research career in the oral and craniofacial field for the last three years. Very recently, she was awarded an NIDCR Small Grant Program for New Investigators (R03). The newly funded project will be focusing on the development of T cell-mediated targeted gene delivery of immunotoxin in head and neck cancer.

1.  How did you first learn about AADOCR and what motivated you to join?
I was trained as a physician in Nanjing, China. Along the way I was fascinated by the cellular and molecular mechanisms underlying various diseases, which can be targeted precisely for therapeutic interventions to treat diseases and help patients. I was offered a postdoctoral position in Dr. Xinbin Gu's laboratory at Howard University, Washington DC, in 2019. The group has a long-term research focus on the development of novel therapeutics for head and neck cancer. It was only after I joined Howard, with my angel supervisor Dr. Gu's introduction, I started my experience with AADOCR. I am excited to be a member of the leading professional community for multidisciplinary scientists who advance dental, oral, and craniofacial research.
2.  What do you find to be the most valuable benefit of AADOCR membership?
Besides a sense of belonging to a community, to me the most valuable benefit of AADOCR membership is that it provides exposure to various experiences and opportunities. AADOCR has a vision to encourage sharing and fostering collaborations. Great examples are of the 2020 and 2021 meetings I attended. The 2020 IADR/AADOCR/CADR General Session saw a global outbreak of COVID-19 but AADOCR quickly adapted to go online, archived abstracts (including mine) and refunded registration, which was an impressive and kind gesture to financially   stressed  members at that time. The 2021 IADR/AADOCR/CADR General Session was held virtually during the ongoing COVID-19 global pandemic. I was very proud to be a poster presenter and interacted virtually with other researchers from around the world. I would not have realized that the oral and craniofacial field accommodates such diverse research interests and hot topics if I had not participated in the virtual annual meeting. The work done by the organization speaks to its inclusive and inspiring nature. I would recommend you explore the wealth of experiences and various opportunities of an IADR/AADOCR membership, including the awards opportunities you qualify for!
3.  You have been selected as a mentee for the 2021-22 class of the AADOCR Mentoring an Inclusive Network for a Diverse Workforce of the Future (AADOCR MIND the Future), congratulations! What motived you to apply for this program?
I appreciate the congratulations, thank you! I applied to the MIND the Future Program initially in 2020 and then 2021, this is actually my second application and I was very fortunate to be accepted into the program. I moved to the U.S. several years ago for a family reunion and have since been striving to reinvent my research career. After I joined Dr. Xinbin Gu's lab at Howard  University, one of my short-term career development goals is to pursue further training to address key deficits that are essential for me. 
As a new investigator, I urgently needed to access to quality training opportunities and to establish collaborations to advance my research career, improve my skills of effective communication, networking, and aligning expectations along the journey. The outlined primary goal of the AADOCR MIND the Future program is to establish a mentoring network that will support a diverse pool of early career investigators, including individuals from diverse backgrounds, in developing independent research careers dedicated to improving dental, oral, and craniofacial health, which really speaks to me and motivated me to apply.
4.  What excites you most about being part of AADOCR MIND the Future?
The most exciting part of the program for me is that I am granted the access to a vibrant and inclusive community of investigators and a great spectrum of training courses provided by the program. These training courses set out to cover mentees' career development from three different aspects: (1) research/technical, (2) career development, and (3) a tailored mentor/mentee coaching system, incorporating didactic seminars, net-working coaching, and individual hands-on workshops. The variety of training and the diversity and inclusion focus are so encouraging and attractive. I believe the AADOCR MIND the Future program will not only provide critical training to strengthen my ability, but also open up potential opportunities for me to mature into an independent investigator. I look forward to the whole new collaboration and networking opportunities by attending the program.
5.  What do you view as the best way for other members to become more involved in AADOCR and get the most out of the membership?
If you want to become more involved in AADOCR, such as attending meetings, applying opportunities for members, or seeking communications and potential collaborations, just do it—don't hesitate. It sounds like a stereotyped suggestion, but it's very true for me. Let me share a recent story with you. My research at Howard University has been focused on the development of novel therapeutics for head and neck cancer. One of our strategies is to harness the potent cytotoxicity of recombinant immunotoxins, in our case, diphtheria toxin (DT), to treat head and neck cancer. Recently, Drs. Margaret J. Lange-Osborn and Marc C. Johnson at University of Missouri, Columbia, published interesting research on targeting the DPH1 gene to construct plasmid lentiCRISPRv2 for establishing DT-resistant cell lines. The plasmid would help our research for DT-resistant cell line establishment, so I reached out and wrote to Dr. Johnson. To my pleasant surprise, it was an immediate reply with a positive "Sure!" And now I have their plasmid. This type of communication happens in research community all the time. I tell this story just to serve as a positive reminder: AADOCR and its research community are open to all, if you really want something, do your part, do your best, and go for it!