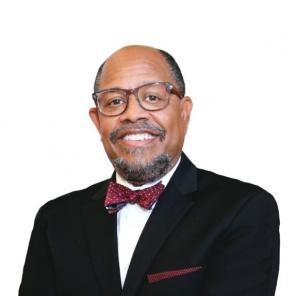 Hansel M. Fletcher received his Ph.D. in Microbiology and Immunology from Temple University, Philadelphia, Pennsylvania. He conducted postdoctoral studies on the biochemistry and molecular genetics of virulence factors in Porphyromonas gingivalis and the molecular genetics of antibiotic resistance in Bacteroides at the Medical College of Virginia, Virginia Commonwealth University, Richmond. In 1995 Fletcher he joined the Department of Biochemistry and Microbiology at Loma Linda University, Calif., where he is currently Professor and Vice Chair for the Department of the Basic Sciences.
Since 2004, Fletcher has been serving as the Graduate Program Director for the Division of Microbiology and Molecular Genetics. He is also the Assistant Dean for Graduate Student Affairs in the School of Medicine at Loma Linda University, Calif., managing the graduate program and curriculum.
Nationally, Fletcher serves on several NIH study panels, including study sections that evaluate grants for the training and development of graduate students, postdoctoral fellows and faculty at the early stages of their career. He currently serves as the chair for the Fellowship F08 study section panel and holds adjunct professorships at Universities in the USA, India, China, South Korea and Jamaica. Fletcher on the editorial board of multiple scientific journals, is an Academic Editor for PLoS One and is one of the Associate Editors for the journal Molecular Oral Microbiology.
Fletcher served as President for the IADR Microbiology/Immunology Scientific Group from March 2017-2020 2020 and currently serves as the Chair of the AADR Committee for Diversity and Inclusion.
Interview Questions
1. How did you first learn about the AADR and what motivated you to join?
My scientific career since graduate school has been mostly focused on oral biology. Thus, the scientific community supported by AADR was a logical and welcoming home. I was motivated to join the organization and continue to be highly supported with the strong network of scientists and opportunities to advance my career.

2. Can you describe your research? How do you hope your work will impact others?
As an experienced and well-trained scientist in the molecular genetics and biochemistry of microbial diseases, my research program has been focused on oral bacterial pathogens important to periodontal diseases and inflammatory systemic diseases including cardiovascular disease and rheumatoid arthritis. My pioneering work on genetic tool development for Porphyromonas lead to the first demonstration of the role of proteases in the virulence of P. gingivalis. Furthermore, the genetic tool (an ermF/ermAM antibiotic resistance cassette) is the most widely used in genetics studies in P. gingivalis. My research program has provided evidence for posttranslational regulation of proteolytic activity in P. gingivalis and the first report of the identification of a gingipain proenzyme from this organism. We have also provided evidence of a new paradigm for DNA repair of 8-oxo-7,8-dihydroguanine lesions in P. gingivalis in addition to the first demonstration that gingipains from P. gingivalis can induce caspase-independent apoptosis in endothelial cells. Our work with the P. gingivalis vimA (virulence modulation A) gene, identified in our laboratory, is emerging as a founding member of novel post-translational control mechanism in Gram-negatives. Our group has begun other studies with Fillifactor alocis, a new emerging Gram-positive bacterium, that is now proposed to be a diagnostic indicator of periodontal disease. Our group was the first to report on the virulence potential of this organism. Moreover, based on proteomic studies of the interaction of P. gingivalis and F. alocis with host epithelial cells raise questions on the ability of these bacteria to modulate host function via a post-translational mechanism involving acetylation and/or methylation. Both these organisms, which have invasive abilities, can secrete proteins with putative acetyltransferase and methyltransferase functions which can have implications for host/virus epigenetic modulation. Collectively, our work should lead to the identification of novel targets that that will facilitate the development of therapeutic interventions to aid in the control and prevention of infection-induced periodontal diseases.

3. Can you describe your experience being a researcher from an underrepresented group in science?
As a scientist/educator/administrator from an underrepresented population, I have leveraged my experience to continue the development of a highly motivated people. One of my goals and guiding principle is to continue working towards promoting diversity within the scientific arena by actively recruiting and training students from underrepresented and disadvantaged populations and by serving as a role model, mentor and advisor to these individuals. I have been involved and will continue to be aggressively engaged in faculty development and capacity building at our Historically Black Colleges and Universities (HBCUs) and academic institutions throughout the Caribbean, Latin America, India, South Korea and Africa.

4. Have you had the opportunity to mentor underrepresented minorities or work to increase diversity in science? If yes, can you describe your experience and what agencies/organizations you worked with?
I have a strong record in the training of graduate students most of whom are underrepresented minorities. Twenty graduate students, including 10 candidates with M.S. degrees, have graduated from my research program. Of this number, four currently hold university faculty positions. Twelve postdoctoral fellows have been trained in my laboratory, with six currently holding university faculty positions while one serves as the Director of Research and Development at a biotechnology company and another Vice-president for Research.

5. Based on your experience, how would you encourage AADR members to help increase the diversity of the research workforce?
An intentional effort should be made by AADR members to target, developed and establish a functional network that includes diversity scientists. To develop a pipeline, a deliberate effort should be made to provide more internships and research opportunities to scientists/students from underrepresented groups. There should be a pledge for each one to mentor at least one member of an underrepresented minority/ethnic group.

6. What role do you think professional associations can play in supporting its members who are members of underrepresented minority/ethnic groups?
As part of the succession planning for the organization, every effort should be made to operationalize leadership training for the organization's diversity members. This should include the active participation of diversity members on all committees.