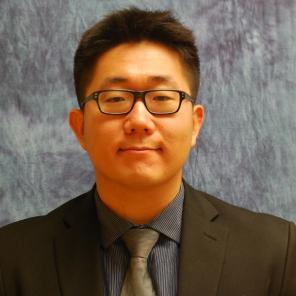 James Seung Jin Jang is a sixth year D.M.D./Ph.D. candidate at the University of Florida College of Dentistry (UFCD). He graduated Summa Cum Laude from the University of Florida where he majored in Interdisciplinary Biochemistry and Molecular Biology. Prior to joining the DMD/PhD program at UF, he worked in multiple laboratories at National Institutes of Health (NIH). During his time at NIH, he regularly attended rounds at the National Institutes of Dental and Craniofacial Research (NIDCR) and was inspired by the scientists there and their research work.
Jang has been working in Dr. Zsolt Toth's laboratory as a DMD/PhD student, where he investigates the role of viral interferon regulatory factors in Kaposi's sarcoma-associated herpesvirus infection of oral epithelial cells. He has been actively involved with the AADOCR National Student Research Group (NSRG) and served as the President, Vice President, Treasurer, and Historian of the UFCD Student Research Group. He also served as the regional representative, Councilor, and currently as the President-elect of the National Student Research Group.
How did you first learn about AADOCR and what motivated you to join?
I first learned about the AADOCR while I was applying to DDS/DMD and PhD dual degree programs throughout the country and was working as a research assistant in Dr. Zsolt Toth's laboratory at UFCD. Since my career goal was to be an academic dentist, joining AADOCR and student research groups was necessary for me as networking with people in academic dentistry was essential for my future success. Therefore, I joined AADOCR and both the National Student Research Group and the local UFCD Student Research Group on the first day of my dental school. I started my dental school several months early as I participated in the UFCD Summer Research Program.
What do you find to be the most valuable benefit of AADOCR membership?
Just as I expected, networking with professors and researchers around the country was the most beneficial aspect of becoming an AADOCR member. Attending annual AADOCR/IADR meetings and presenting my research progress were also very helpful for expanding my network and gaining insights from those who took both similar and different pathways. Through my AADOCR membership, I was able to build valuable connections and was able to find multiple different career pathways to consider after I complete my dual degree training at the UF College of Dentistry.
What motivated you to seek a Student Representative position on the AADOCR Board of Directors?
Through the student representative position on the AADOCR Board of Directors, I wanted to explore what it's like to be in the AADOCR after I become a faculty member at a dental school or a research institute. Therefore, this opportunity was also part of my plan to learn more about the academic career paths in the future. Furthermore, I wanted to help my fellow student members, especially those who are pursuing academic career paths in our profession, join the AADOCR and take advantage of leadership opportunities so that they can also build their own networks and are well-informed when choosing their own career paths in academic dentistry.
What has been the most rewarding aspect of sitting on the AADOCR Board of Directors?
Meeting with board members in the AADOCR Board of Directors and gaining insights from them were the most rewarding aspects of participating as a student representative. Since most board members have pursued academic careers in dentistry, it's been very good experience for me to work side by side and get to know them. Learning how and what career decisions they made while they were students, postdocs, or residents has been very helpful. I also witnessed how much they were dedicated to improving dental research community and how much support they were providing to members, especially the student members. I am very grateful to them and it has been very inspiring experience working with them.
What is the best way for other members to become more involved in AADOCR and get the most out of the membership?
I believe we need to provide more value to the new members. While serving as the President-elect of the NSRG, my primary focus is on sharing ideas for how to encourage more dental students in the United States and Canada to participate in the dental research opportunities provided by dental schools and AADOCR, and how to encourage more dental students to continue contributing to AADOCR by pursuing academic careers in our profession.
While holding multiple positions in both local chapter and national chapter in the NSRG since 2017, I noticed that many of my dual-degree student colleagues at multiple dental schools were burnt out due to lengthy training. Therefore, to motivate my colleagues to continue pursuing academic and research careers in dentistry, I have been organizing seminars that invite inspiring speakers to encourage and provide guidance to students.
One example was inviting Dr. Lawrence Tabak, the current acting director of the NIH. Meeting with Dr. Tabak for more than one hour and gaining precious advice from him was very motivating to some dual-degree students. In addition to motivating the current members, I also aim to work with my NSRG colleagues and AADOCR Board of Directors to recruit new members. We have been working on recruiting PhD students to join the NSRG and the AADOCR. And we also aim to recruit pre-dental students so that they gain early exposure to academic, research careers in dentistry by joining both NSRG and AADOCR and taking advantage of values offered by AADOCR such as attending AADOCR/IADR meetings and presenting their research work to dental school professors all over the country.