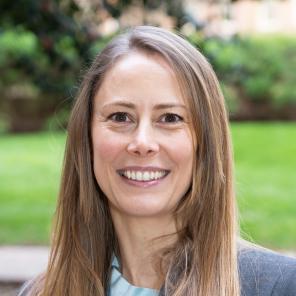 Dr. Marchesan joined the Adams School of Dentistry at the University of North Carolina, Chapel Hill in 2013 as a postdoctoral fellow and became an Assistant Professor in 2018. She obtained her DDS from the University of São Paulo, Brazil and her Ph.D. in Oral Health Sciences at the University of Michigan. Dr. Marchesan studies the innate immune responses that underlie periodontal bone loss, aiming for the development of precision care. Using novel disease taxonomies and mechanistic studies, she has helped uncover the role of several genes associated with periodontal disease, including IFI16, AIM2, IL-37, and TRAP-3IP2. Her research has been funded by the National Institutes of Health since 2008 via training grant mechanisms. 
Supported by the AADOCR Haffajee Fellowship and NIH-CTSA-KR2, Dr. Marchesan discovered that females and males have distinct pathways of periodontal tissue destruction. Recently, she received an NIH-R01 award that will allow further investigation of biological sex-based differences in the development of periodontal disease. Her publications include two book chapters in the Newman and Carranza's Clinical Periodontology, and over 40 peer-reviewed papers in prestigious journals that include Nature Protocols, Journal of Dental Research, and Journal of Periodontology. 
How did you first learn about AADOCR and what motivated you to join?
I learned about the AADOCR during my Ph.D. training at the University of Michigan – so I've been a member for almost 20 years. It is a well-respected association where you can learn about the most up-to-date and exciting information in Dental, Oral, and Craniofacial Research. 
What do you find to be the most valuable benefit of AADOCR membership?
I have been consistently funded by university, industry, and federal institutions since I started my journey as a researcher in 2006. Being a member of the AADOCR and attending its annual meetings has been essential to maintain constant funding and to foster my career as both an oral health care provider and a researcher. 
What motivated you to apply for the Anne Haffajee Fellowship, and how has winning affected you and/or your career? 
Dr. Haffajee is a legend in periodontal research. To receive an award that celebrates her work is an honor. The AADOCR Haffajee Fellowship was crucial for the development of my research program. Our group unexpectedly discovered that females and males have distinct biological pathways that lead to alveolar bone loss. At the time, I had no funding to support further exploration of this novel research finding. The Haffajee Fellowship supported the expansion of our initial sex-based results and led to additional discoveries and funding support. Below are the accomplishments that directly resulted from the AADOCR Haffajee Fellowship:
Predoctoral research projects mentored/supervised 
Caspase-1 Inhibition Decreases Alveolar Bone Loss (2019- 2020). 
Student: Mustafa Girnary, Class 2023, UNC-Chapel Hill.
Received the Grover C. Hunter Fellowship (DDS Short-Term Research Fellowship)
Primary Mentor: Julie Marchesan
Grants
Sex-specific differences in inflammasome modulation of periodontitis. 2021-22   
Received the NCATS # UL1TR002489 - 550KR272121
Total Award: $50,000.00.
PI: Julie Marchesan 
Inflammasome regulation underlying sexual dimorphism in periodontitis. 2023-27
Received the NIDCR #1R01DE032830
Total Award: $3,641277.00
PI: Julie Marchesan

Are you going to the 2024 IADR/AADOCR General Session in New Orleans? If so, which parts are you most looking forward to?
Absolutely. I look forward to receiving feedback on our work and learning about what is new in dental, oral, and craniofacial research. I also enjoy the atmosphere of the meeting – I see it as a moment to celebrate all the hard work that is required for the development of important research discoveries. I am mostly proud to see my students develop as professionals in the field.
What do you think is the best way for other members to get the most out of their AADOCR membership?
I highly recommend attending the meetings every year to present your work and learn about what is new in the field. It is also a great place to network with other students and professionals invested in education and discovery, so attending the AADOCR social events is an opportunity that should not be missed! I've also learned over the years that planning your daily schedule in advance using the mobile app allows you to effectively attend all the desired meeting events.