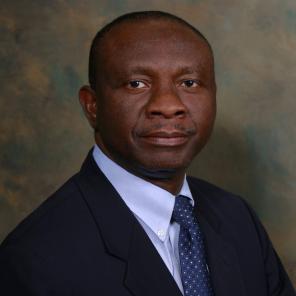 Kalu U. Ogbureke is a tenured Professor of Oral & Maxillofacial/Head & Neck Pathology at the UTHEALTH Houston School of Dentistry. He was Chair of the Department of Diagnostic and Biomedical Sciences from October 2012 to December 2019. Ogbureke is the PI studying the SIBLLING family of proteins in oral cancers/precancers. His clinical practice includes diagnostic Oral and Maxillofacial Histopathology, Head and Neck Pathology, and Clinical Oral Medicine.
 
In 2007, Ogbureke was awarded the inaugural Neal W. Chilton Fellowship in Clinical Research by AADOCR. Since then, he has received several national and international awards for scholarly and educational activities, including the King James IV Professorship of the Royal College of Surgeons of Edinburgh, becoming the First of African Descent to receive this award. In 2018, Ogbureke was awarded a Certificate of Congressional Recognition by the U.S. Congress upon completion of his Fulbright Distinguished Chair award at the University of Birmingham, U.K. 
How did you first learn about AADOCR and what motivated you to join?
I first learned about AADOCR in 1993 when I was a graduate student completing a Master's program in Oral Pathology at the University of Glasgow. 
What do you find to be the most valuable benefit of AADOCR membership?
My membership with AADOCR over the past three decades has indeed proven to be the proverbial gift that keeps giving. As a result (more appropriately, a reward!) of my membership, I have established numerous friendships and networking colleagues who have played significant and indelible positive roles in my career advancement. They include individuals who have attained the pinnacle of AADOCR (and IADR) leadership. Of course, my close association with these great colleagues resulted, in some cases, in collaborative research, and they continue to serve as mentors and very good friends. I continue to learn and benefit from the outstanding scientific presentations that characterize the annual meetings.  
What motivated you to apply for the AADOCR Neal Chilton Fellowship, and how did winning affect you and/or your career? 
I was just starting my enterprise as a junior faculty and independent researcher (PI) in 2007, after a two-and-a-half-year postdoctoral fellowship at NIDCR. When I saw the announcement and invitation for applications and realized that I met the requirements, I figured the fellowship might be quite timely in providing me with the additional background and preparation I needed as a budding independent researcher. 
The Fellowship supported my eight-week clinical Research Fellowship at the Summer Institute in Clinical Research Methods, University of Washington, in 2007. By the end of 2007, I had received the Emerging Scientist Award of the Medical College of Georgia (now University of Augusta) Research Institute (MCGRI). A series of firsts, attributable to the Neal Chilton award, followed over the ensuing years: an NIDCR K23 Research Grant (2008-2011), an STP Research Grant, MCGRI (2008-2011), and my first Fulbright Scholarship award (2010-2011) at the University of Lagos, Nigeria. All three represented "firsts" in the history of the Augusta University; King James IV Professorship, Royal College of Surgeons of Edinburgh (first of African descent to win this award); and my second Fulbright award, the Fulbright Distinguished Chair (2018) at the University of Birmingham, Birmingham, England. One could sum up by saying that receiving the inaugural Neal Chilton award triggered a cascade of "firsts" that appear to be continuing.  
What is the best way for other members to become more involved in AADOCR and get the most out of the membership? 
Do not shy away from approaching strangers at the AADOCR meetings, attend as many scientific sessions as possible, and corner interesting speakers afterwards for a chat. Seek out opportunities for committee memberships and other service opportunities. Do not be in a hurry to depart the meetings; enjoy them to the fullest and keep in touch with any valuable contacts in-between annual meetings.