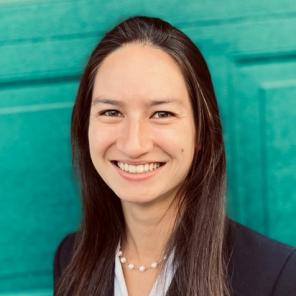 Kazune Pax is a fifth year D.D.S./Ph.D. candidate at the Ohio State University College of Dentistry. She received a B.S. in Science Pre-Professional Studies and Math from the University of Notre Dame in 2017. Her passion for research began in high school and was further developed at the University Notre Dame. She has spent the past several years in Dr. Purnima Kumar's lab, studying the oral microbiome of mother-child dyads. The ultimate objective of her research is to determine whether a mother's oral microbiome, habits, and systemic conditions affect her child's oral microbiome and predispose the child to future health risks. Pax is the AADOCR National Student Research Group (NSRG) President-elect. In addition to her role with NSRG, she is involved with Ohio State University's Dental Student Research Group and is heavily involved with the Asian Pacific Student Dental Association. In her free time, she loves hiking, outdoor activities, and baking.
1.    How did you first learn about AADOCR and what motivated you to join?
I first learned about AADOCR when talking to upperclassman in my dual degree program. They told me it was a fun and informative experience filled with opportunities to present your research and network with other students as well as future potential mentors/employers. I wanted to join because I wanted to learn about the research, programs, and people outside of my school. I wanted to practice presenting my research to a larger group of people. AADOCR's annual conference gives me those opportunities. 
2.    What do you find to be the most valuable benefit of AADOCR membership? 
The most valuable benefit of an AADOCR membership for students is the ability to make friends across the country. While the membership also gives us the opportunity to connect with veteran researchers and others in our field, access to research articles, etc. which are invaluable, the friends I've made have been the most important benefit. We are all in different stages in our careers and being able to ask for help and guidance by someone who just went through the process has been amazing. 
3.    You are the NSRG President-elect and a member of the AADOCR Board of Directors, thank you for volunteering your time! What motived you to run for office? What do you hope to accomplish while serving in this position? 
I first interacted with the NSRG in Ft. Lauderdale at the 2018 AADR/CADR Annual Meeting and have looked forward to reuniting with friends at every conference since then. After that conference, I ran to be secretary of NSRG because I saw many ways in which I might be able to contribute and improve how the organization runs. I loved my time serving as secretary and I believed there was more I could do with the organization, so I then ran for president. Previous NSRG board members donated their time to make me feel welcome, I can offer my own services and talents to do the same for future NSRG members. 
I want to make the NSRG more accessible and prominent to dental students across the country. The NSRG is well positioned to advocate for dental students nationwide and provide resources to aid career development. To make NSRG more visible, I've been working to make our Instagram, Facebook, and Twitter more active through student and faculty spotlights. I've also tried to include notifications for deadlines as well as events since it's easy to miss things in emails when we all get tens of emails a day. Hopefully someday we can also have our own space on the AADOCR Community so students can reach out to fellow students for answers. Sometimes asking a peer for help is easier than asking an established researcher. 
4.    Why is it important for students to join the NSRG? What do you view as the best way for other members to become more involved and get the most out of an AADOCR membership?
It is important for students to join the NSRG because it is a great way to connect and communicate with other students and faculty across the country. The ability to exchange insights and ideas across diverse institutions, professions, and locations is at the heart of expanding the scope of science. As students, I think the best way to get more involved is to run for NSRG positions. Even if you don't have the two years to dedicate, there are numerous one-year positions that are just as, if not more, important. While simply attending the annual meeting is great, also attending interesting Symposia and Hands-on-Workshops is a fantastic way to get more out of your AADOCR membership and conference registration.