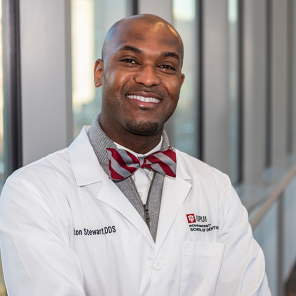 Kelton Stewart is a Texas native who earned his Doctor of Dental Surgery from Baylor College of Dentistry, Texas A&M Health Science Center. Following his dental training, he remained at Baylor to complete a residency program in Orthodontics and a Master's program in Health Professions Education.
Stewart is the James J. Baldwin Associate Professor of Orthodontics and currently serves as the Chair, Graduate Program Director of the Orthodontic Department at Indiana University School of Dentistry. Throughout his career, Stewart has been actively engaged in various aspects of organized dentistry and has received numerous accolades for his professional efforts in teaching, research, and service. His two most favorite professional achievements include serving as President of the Student Competition for Advancing Dental Research and its Application (SCADA) program during its transition into the AADOCR programing portfolio and mentoring over 100 dental and graduate students who now serve the needs of their communities in numerous countries around the world.
How did you first learn about AADOCR and what motivated you to join?
I first learned about the AADOCR meeting from my research mentors, Drs. Paul Ezzo and Robert Spears. As a dental student, I participated in basic science research and my mentors helped me appreciate the tremendous impact that research and scientific evidence has on the advancement and trajectory of oral healthcare. This was an invaluable lesson for me as an aspiring clinical scientist. Now as an educator and clinician, I have maintained membership with the AADOCR because I believe in its mission and feel that it provides me with another venue to inspire others to make meaningful contributions to the profession through scientific discovery. 

What do you find to be the most valuable benefit of AADOCR membership?
I believe the most beneficial aspect of AADOCR membership is the ability to learn about innovative science from content experts from around the world. To attend lectures and symposia led by the individuals responsible for advancing various aspects of the oral health profession is an exciting and insightful opportunity. These same experiences have helped to push and embolden me to continue my own clinical and scientific explorations throughout my professional career. 
What motivated you to participate in the AADOCR Dentsply/Caulk Competition, and how did winning affect you and/or your career?
My dental school research mentors were my primary reason for participating in the AADOCR Dentsply/Caulk Competition. While working with them, they believed that we had conducted a meritorious project and that I possessed the ability to share our group's results in such a competition. Winning the AADOCR Dentsply/Caulk competition was particularly special because it was one of the first professional accomplishments I attained during my dental career. More important than winning the competition, this early success opened a world of possibilities for me. By competing and winning in the competition, I was afforded the opportunity to attend my first AADOCR meeting. I competed in the Dentsply/Caulk national competition, which exposed me to a wider range of research and began the development of a professional network that has now grown to included colleagues from around the globe. Most importantly, it affirmed my ultimate professional career path, dental academia. As a dental educator and orthodontic specialist, I participate in the development of new knowledge, the application of existing knowledge through patient care, and actively work to motivate and empower future colleagues to continue this pursuit. What a great way to help our profession and communities now, while planting the seeds for future advancement and success! While I failed to fully appreciate it at the time, the AADOCR Dentsply/Caulk competition provided me with a pathway to use my gifts to help others and establish a rich legacy.
Are you going to this year's AADOCR Annual Meeting? If so, which parts are you most looking forward to?

Unfortunately, I have a conflict with the 2023 AADOCR Annual meeting and will be unable to attend the meeting this year. What I will miss most is interacting with the many talented participants in the AADOCR SCADA program. Learning about the participants' amazing research activities, unique personal journeys, and remarkable career aspirations is always an energizing and uplifting experience for me. I wish all the student participants much success during the competition and hope that they find their experience at the AADOCR meeting as transformative as I have during my career. 
What is the best way for other members to become more involved in AADOCR and get the most out of the membership?

I encourage any member interested in becoming more involved in AADOCR to consider joining one of the many excellent sections/groups. It is a wonderful way to expand your professional network, establish new collaborations, and identify colleagues that can support your professional growth. I also think that volunteering to serve as a research competition judge is a great way to learn about cutting-edge research, while supporting the development of our colleagues and student researchers. As is true for many organizations, its members will get more out of their membership when they are actively and intentionally engaged in the organization's activities. So, to my many friends and colleagues reading this, how will you choose to engage with the AADOCR and impact the future of our profession?