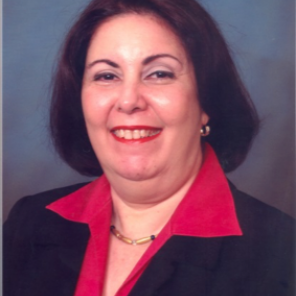 Lydia M. Lopez del Valle, D.M.D, is Professor at the University of Puerto Rico School of Dental Medicine (UPRSDM), San Juan. She received her D.M.D. and M.P.H. at the University of Puerto Rico and received training at the Summer Research Institute of the University of Washington, Seattle. Her research has focused primarily on oral health among infants and children, especially on Early Childhood Caries prevention and maternal and adolescent oral health. Lopez founded the Puerto Rico Infant Caries Prevention Program, which works with the oral health of preschool children of the Head Start Programs in Puerto Rico. An IADR/AADOCR member since 1993, Lopez has served in several scientific committees such as the Constitution, Science Information, and Diversity Committees. 
How did you first learn about the AADOCR and what motivated you to join? 
In 1992 I attended the Summer Research Institute of the University of Washington at Seattle. I enrolled there on research projects on Early Childhood Caries prevalence studies. In Puerto Rico at that time there was no information about caries prevalence or the risk factors associated with it in young children. This was an extraordinary opportunity for me to begin my research. I had excellent research mentors such as Dr. Peter Milgrom, Dr. Peter Domoto, Dr. Phil Weinstein, and later Dr. Robert Berkowitz who helped me to submit NIDCR grants and introduced me to AADOCR. I have been an active member ever since, participating in Committees and other AADOCR and IADR activities. Through time I realized the importance of the AADOCR and its mission and encouraged other Faculty at my institution to become members. I developed the Puerto Rico Section for the American Division of the AADOCR. Being a member of the AADOCR for more than 25 years has been an enriching experience for me, my research, and my career in dental education. 
Can you describe your research? How do you hope your work will impact others?
My first research was on Early Childhood Caries (ECC) and risk factors. After that I developed clinical trials research on treatments for ECC. Puerto Rico was one of the first places where fluoride varnishes were used. Iodine Povidone used for the prevention of ECC was first proven in Puerto Rico and that impacted future research on the area. After these research studies I explored periodontal disease in pregnant women, oral health in mothers and children, periodontal disease and gestational diabetes, and periodontal disease and obesity in adolescents. Also, I mentored Dr. Carmen Buxo and dental students on research on oral clefts. Dr. Buxo developed a Center for Oral Clefts in Puerto Rico in collaboration with Iowa University called FACEGENES. Since then I've had outstanding experiences in research, including collaborations with Dental Schools at the University of Seville, the Central University of Venezuela, the University of Costa Rica, and others. I would like my research to encourage others of Hispanic heritage to pursue careers in research. 
Can you describe your experience being a researcher from an underrepresented group in science?
My experience has been excellent. As I mentioned, I had excellent mentors who provided me with the experience and courage to apply for federal grants and to be successful. AADOCR contributed to networking and mentoring experiences and activities through these 25 years of my research career. I also had the opportunity to do training over the years and explore other areas of research and continue growing in dental sciences. I never felt discriminated against or excluded. I encourage all underrepresented groups on research to look for mentoring and opportunities in the vast field of dental and orofacial research.
You are currently a member of both the Pediatric Oral Health Research Group and the Cariology Research Group. What motivated you to take on these roles?
Continuing education is extremely important in my field. I am a member of both the Pediatric Oral Health Research Group and the Cariology Research Group because these groups help me stay up-t-date on the field of Pediatric Dentistry and Caries Research, which are my areas of expertise. 
Based on your experience, how would you encourage AADOCR members to help increase the diversity of the research workforce?Improving collaborations on research with mentors and new investigators from underrepresented groups. Mentoring, networking, and multicenter research collaborations will improve the diversity of the research workforce. I would also encourage that members attend more trainings and workshops where there is cross collaboration, not just at the university level but also at the state level, with minority groups. It is a key point to have good mentors and I encourage universities to work with their faculties so that they can have mentorship readily available.
What role do you think professional associations can play in supporting their members who are members of underrepresented minority/ethnic groups? 
Professional associations can play a huge role in supporting mentorship, collaboration, and networking for and among underrepresented groups. They can also provide awards and funding for initial projects, which always helps!