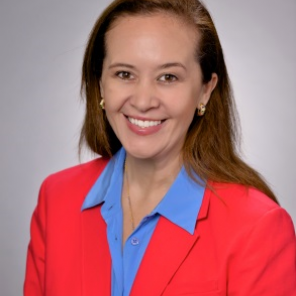 M. Nathalia Garcia, D.D.S., M.S. is the current Chair of the Applied Dental Medicine Department and Section Head of Periodontics at Southern Illinois University, School of Dental Medicine and an Adjunct Clinical Professor in the Graduate Periodontics Program at Saint Louis University, Center for Advanced Dental Education.
Garcia received her D.D.S. and the diploma of Specialist in Periodontics from the Universidad Javeriana, Bogota, Colombia, with additional advanced clinical training in implant dentistry. In 2015 she was honored as a Fellow of the International College of Dentists for her over 17 years of clinical, academic, research and teaching experience. In 2017 she received the ADEA Enid Neidle Scholar-in-Residence Award, a recognition for a female faculty working in academia which gave her the opportunity to learn about resources for women in academic dentistry. Garcia is the author of more than 20 journal articles and book chapters and serves as a member of the editorial board of 3 scientific and dental journals.
Garcia has established a strong commitment to clinical research in dentistry and periodontics and has participated in different projects supported by private industry and federal grants from the National Institutes of Health (NIH), including the Human Microbiome Project and the multi-center study sponsored by the NIH-NIDCR entitled, "Biomarkers of Periodontal Disease Progression," assuming the role of Principal investigator for Southern Illinois University. Currently, in collaboration with ADEA she is investigating women faculty's involvement in dental research and comparing productivity based on gender to uncover the reasons for the differences.
How did you first learn about the AADR and what motivated you to join?
I first learned about AADR when working with my mentor Dr. Charles Hildebolt from Washington University. He emphasized the importance of participating as a member and attending the meetings. I was motivated to join because it was a great opportunity to get new ideas, meet new people and develop future collaborations. Since my first meeting in 2010, I have been a regular attendee, and I enjoy each meeting.
Can you describe your research? How do you hope your work will impact others?
As part of my academic career, I have been working in clinical research on periodontal disease progression and the impact of nutrition, vitamin D and other therapies. I have participated in many different projects at the NIH such as the Human Microbiome Project, an initiative to improve understanding of the microbial flora involved in human health and disease and in an NIH multicenter study on biomarker projects.
In 2017, I was awarded the American Dental Education Association (ADEA) Enid A. Neidle Scholar-in-Residence Program which promotes the advancement of women in dental education. This award has allowed me to collaborate with the ADEA on a project that compares NIH data on gender and grants awarded. The NIH provided the data, and my team and I have analyzed the association between NIH grants and gender.
External funding is so fundamental to a researcher's career, and we hope to use this data to promote women in science. My research will support dental practice and impact students, colleagues and institutions better support women in dental research.
Can you tell a story or give an example of how cross collaboration with other scientific disciplines has been important to your career?
My involvement in the NIH Human Microbiome Project is a great example of cross collaboration. My participation in this project has allowed me to work with experts in different fields at the NIH and in many U.S. institutions. With the expertise that comes from of many people working together we have obtained amazing outcomes! It is gratifying to see how your contribution along with many others will lead dentists and scientists to many further discoveries.
Can you describe your experience being a researcher from an underrepresented group in science?
There are many talented URM [underrepresented minority] researchers that have and will make very significant contributions to science. Being a URM does not have to be a roadblock. Preparation, hard work, the ability to work with others and securing a good mentoring network is what will allow URMs and all researchers to succeed.
Have you had the opportunity to mentor underrepresented minorities (URMs) or work to increase diversity in science? If yes, can you describe your experience and what agencies/organizations you worked with?
I am originally from Colombia, but regardless of where you are from, there are fundamentals outside of your race, gender and background that make a good researcher and research team. I think it is important for mentors to identify the talents and strength of your mentees when building any career.
Empowering women and minorities is very important to me. Obtaining the ADEA award allowed me to discover new avenues of leadership and gave me knowledge on how best to promote women in academy dentistry.
Based on your experience, how would you encourage AADR members to help increase the diversity of the research workforce?
Mentorship is important for developing new researchers, especially URMs. I would encourage AADR members to promote collaboration and small groups or communities that allow young investors to meet with senior mentors locally. Also, getting involved in AADR in general will help anyone interested in dental research. Apply for awards, volunteer in committees and your IADR Group/Network or local chapter and attend the annual meetings.
What role do you think professional associations can play in supporting its members who are members of underrepresented minority/ethnic groups?
Professional associations can support its members by providing niche or local groups so that mentors and mentees can collaborate within the groups, but they can also share their knowledge and connections to facilitate career growth. By proposing incentives for members to participate and submit projects, members can grow their career and will want to come back and get even more involved.