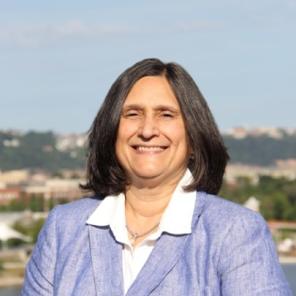 Mary L. Marazita, PhD, has been on the faculty of the University of Pittsburgh since 1993, currently serving as Distinguished Professor in the Department of Oral and Craniofacial Sciences in the School of Dental Medicine, and co-Director of the Center for Craniofacial and Dental Genetics, with secondary appointments in Medicine and Public Health. Dr. Marazita's research applies the techniques of statistical genetics and genetic epidemiology to multiple complex human traits including craniofacial birth defects, oral health traits, normal facial development, behavioral traits, premature birth, and others.  She has many years of experience in research with more than 450 publications to date and continuous NIH funding since 1985, mostly from the National Institute of Dental and Craniofacial Research. Her major contributions include ground-breaking studies of genetics/genomics and phenotypes in nonsyndromic orofacial cleft families from many ethnicities, genetic studies of oral and dental diseases, and multidisciplinary studies of oral health disparities incorporating the metagenome, host genome, behaviors, and environment. Her studies have led to collaborations with colleagues across the U.S., and in more than 15 other countries, representing all continents except Antarctica.
How did you first learn about AADOCR and what motivated you to join?
I first learned about AADOCR (the AADR) when I was on the faculty of the Department of Human Genetics during the late 1980s (Medical College of Virginia, Virginia Commonwealth University). I was tasked with developing a genetics course for the VCU School of Dentistry, began collaborating with several Dentistry faculty on the genetics of aggressive periodontitis, and in due course joined AADR. I was motivated to join to stay abreast of current findings in dental research since this was a relatively new area for me, although I had already been extensively involved in craniofacial research.
What do you find to be the most valuable benefit of AADOCR membership? 
The annual meetings, JDR, and DOCR networking.
 
You are co-editor for the upcoming the Journal of Dental Research (JDR) Special Issue on Data-Driven Analytics for Dental, Oral, and Craniofacial (DOC) Health Care—thank you for taking his position! What motived you to become co-editor? What impact do you hope the special issue will have? 
My research specialty is computational genetics/genomics, and in a variety of contexts, I have been involved in "Big Data" for many years given that the field of genomics has come to rely on large, publicly available databases that have led to incredible advances in human genomics in recent years. These advance are increasingly important to DOC, and I envision that JDR's special issue on the topic will highlight research and resources at the forefront of data science that are now being created and/or leveraged by the DOC research community.
Why should members be engaged with the Association and with the JDR? What do you view as the best way for other members to become more involved and get the most out of an AADOCR membership?
Attend annual meetings, get involved in the many activities of the AADOCR (including specialty sub-groups). I think some basic science researchers have a perception that AADOCR is "too" clinically oriented; there has always been strong basic research in AADOCR, but the participation of so many incredible clinical researchers in AADOCR is actually a huge benefit to the more basic researchers. You cannot effectively study diseases unless you have a deep appreciation of their clinical presentations.