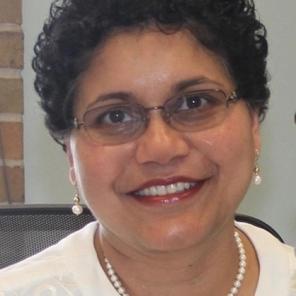 Nisha D'Silva, BDS, MSD, PhD, is the Donald Kerr Endowed Collegiate Professor at the University of Michigan School of Dentistry. She is also Professor of Pathology at the University of Michigan Medical School and a member of the University of Michigan Rogel Cancer Center. Dr. D'Silva is a clinician-scientist; her translational research in oral cancer focuses on biomarkers and molecular mechanisms of tumor progression and treatment resistance. She has been the principal investigator of National Institutes of Health (NIH) grants and is currently funded by the National Institute of Dental and Craniofacial Research/NIH Sustaining Outstanding Achievement in Research award. She has published over 90 papers in high-impact journals including Nature Communications, Journal of Experimental Medicine, Clinical Cancer Research, Oncogene, and Journal of Clinical Oncology.
Dr. D'Silva is a Fellow of the American Association of Dental Research. She has served on several AADR/IADR committees including the Nominations Committee (AADR and IADR), Hatton Awards Committee (AADR), and Publications Committee (IADR). She served as Treasurer of the IADR. She looks forward to continuing to serve the AADR/IADR. 
Dr. D'Silva received the Distinguished Scientist Award for Oral Medicine and Pathology Research from the International Association of Dental Research, and the Rod Cawson Prize from the International Association of Oral Pathologists and the Royal College of Physicians and Surgeons of Glasgow. Dr. D'Silva is a Diplomate of the American Board of Oral and Maxillofacial Pathology, which is her area of clinical practice. She enjoys teaching and mentoring, and is a recipient of the Michigan Institute for Clinical and Health Research Distinguished Mentor award and the Irwin Mandel Distinguished Mentoring Award from the American Association of Dental Research.

How did you first learn about the AADOCR and what motivated you to join? 
As a PhD student in salivary gland biochemistry at the University of Washington, I was encouraged by faculty and peers to join the AADOCR.  I was very excited to attend my first meeting and actually meet the scientists whose papers we read in class. That excitement has stayed with me. The wealth of knowledge disseminated at annual meetings, and the networking opportunities that the organization offer, are amazing. 
Can you describe your research? How do you hope your work will impact others?
Invasion in oral cancer leads to poor clinical outcomes; the goal of my research program is to understand how it does so. My experience in salivary gland biochemistry and cancer biology supports and drives my molecular and translational research. Clinical practice in oral pathology informs my research due to heightened awareness of the challenges for patients with oral cancer. For example, observation of critical phenotypes in oral cancers that I diagnosed in my practice led to my interest in invasion. My laboratory engages in scientifically and experimentally challenging areas, including how the invasive phenotype contributes to aggressive tumors and radiation resistance. We strive to address significant, clinically relevant questions in great depth with innovative approaches. 
We have published over 90 papers – about 50 in the last 10 years – in high-impact journals including Nature Communications, Journal of Clinical Oncology, Cell, and Journal of Experimental Medicine. The exceptional environment at the University of Michigan has fostered our research. Inter-disciplinary collaborations with the Rogel Cancer Center, Schools of Public Health and Engineering, and multiple departments at the Medical School enhance my research. 
Since the early stages of my career, I have been committed to giving back to the academic community, particularly in dental, oral, and craniofacial research. As the first co-director of the UM Cancer Center's Head and Neck Cancer Tissue Core, I was instrumental in developing several protocols for tissue banking and distribution and helped generate resources that are used nationwide. 
Can you describe your experience being a researcher from an underrepresented group in science?
It is my core belief that each individual is worthy of respect, understanding that while we may come from different cultures and experiences, each with a unique story, we are fundamentally linked by our humanity. I have always valued hearing and learning about different cultures and perspectives. I have a very diverse group in my laboratory, representing eight different countries, developed from intense mentoring and outreach. Scaling-up similar approaches would benefit diversity in our workforce. 
Women and men with the same qualifications do not receive similar recognition. The need to nominate diverse candidates was highlighted in an article on women award winners in dental, oral, and craniofacial research (D'Silva et al, Advances in Dent Research 2019). Dr. Rena D'Souza, then IADR president, asked us to write this paper. We were surprised to find that the number of women scientists receiving these awards was disproportionately low compared to the demographics of the organization's women membership. The underlying issue appeared to be a failure in the nomination process; I think that this is an important area for growth. Subsequently, I nominated several respected women scientists for distinguished scientist awards. Many of them have received these awards, which highlights the number of well-qualified competitive women scientists in our organization.
Less resource allocation to women and disparities in recognition/awards, are demoralizing for women who may interpret their slow progress as not working hard enough or not being intellectually competitive. Importantly, this can have a domino effect as it impacts recruitment and retention of women in science.
You are a mentor for the 2021-22 class of the AADOCR Mentoring an Inclusive Network for a Diverse Workforce of the Future (AADOCR MIND the Future). What motived you to serve as a mentor? 
I have successfully mentored faculty at multiple institutions in grant applications. Some of my former mentees have told me that I made a real difference in their careers. This motivates me to continue to mentor early-career faculty. I was happy to become a mentor in the AADOCR MIND the Future program.
Based on your experience, how would you encourage AADOCR members to help increase the diversity of the research workforce?
I would encourage every AADOCR member to embrace the fact that multiple lines of research have shown that diversity in any field benefits progress in that field.
We in health care research have a duty to serve all populations, including those that have been historically underserved. To that end, I would like AADOCR and its members to organize, participate in, and support mentoring opportunities directed toward students from underserved populations, to build awareness, knowledge, and excitement about careers in the field of dental, oral, and craniofacial research.
What role do you think professional associations can play in supporting its members who are members of underrepresented minority/ethnic groups?
I believe that as we improve our record of diversity in training and recruitment, we must learn how to adapt our skills to support a new generation of mentees. Mentoring approaches must evolve with the times; the people who we mentor currently have different needs and expectations from those whom we mentored 10 to 15 years ago. To address this, the organization could host "train the mentor" workshops, particularly those that emphasize diversity, equity, and inclusion.