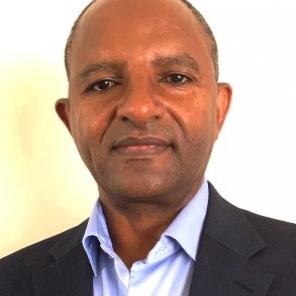 How did you first learn about the AADR and what motivated you to join?
Currently I am a Group Leader at Ashland Inc. in Bridgewater, N.J. I've been in the chemical industry for almost 10 years, developing breakthrough specialty ingredients for dental and oral care applications and products. I first heard about AADR during my tenure at a company that manufactures oral and dental products which was prior to joining Ashland Inc.
Can you describe your research? How do you hope your work will impact others?
Currently, I am responsible for the development of sustainable and biodegradable polymers that provide various formulation and therapeutic benefits for oral and personal care products. The goal is to able to replace microplastics and non-biodegradable synthetic polymers in those products and improve their sustainability ratings. The main challenge with this project is to develop biodegradable polymers that have the desired physicochemical properties and required benefits in the finished products. Microplastics that end up in the environment are known to cause pollution in the ecosystem and ocean life. I have a unique opportunity to make a meaningful contribution which will positively impact the universe. I am passionate about our work and focused on finding several possible solutions that can help mankind.
Can you tell a story or give an example of how cross collaboration with other scientific disciplines has been important to your career?
Cross collaboration is not only important but necessary to find unique solution for a problem one tries to solve. It allows the merging of different disciplines and perspectives to create a new possibility, that would not even possible to imagine otherwise. Collaboration is a mutually beneficial process where individuals, as well as the organizations, that are involved interact and share ideas and see and understand how others work, think, negotiate and operate. Throughout my career, I've been fortunate to have opportunities to collaborate with many individuals from both academia and industries across the globe. Cross collaboration with other scientific disciplines has exposed me to many unique ideas and technologies that help me to widen my knowledge and area of expertise. I also acquired skillset to effectively manage technology development processes and help me to make critical decisions to keep the project on the right track.
Several intellectual properties were created through cross collaboration. One good example I can mention here is a collaboration I had with a small startup company named The Additive Advantage in Massachusetts, now a part of International Flavors & Fragrances Inc. developed a 3D printing technology that was designed to print 3D images on substrates. At the time, I was working for a company that manufactured chewing gum products and wanted to use chewing gum as a delivery system for oral care agents. One of the limitations was hydrophobic agents do not readily release from the chewing gum base. Thus, encapsulation technologies are often used to improve their releases. The 3D printing technology allowed us to deposit fast dissolving microcapsules on the gum surface and provided a faster release of active agents and could print 3D images that were useful to communicate with consumers. The collaboration resulted on filing a patent application for using dissolvable images on edible substrates (e.g. dissolvable film, capsules, chewing gum, tablets…) containing microcapsules with therapeutics agents in the mouth upon consuming the product. My exposure to many collaborations thought me that important discoveries can come from the most unexpected places and my career has also been positively impacted by those unique experiences.
Can you describe your experience being a researcher from an underrepresented group in science?
My research work has been in the corporate (industry) setting. I'm fortunate to say that throughout my career, I do not remember encountering any visible negative experiences by being from an underrepresented group. Of course, I heard firsthand stories of many individuals from minority groups being treated unfairly and not getting opportunities to advance in their career or secure funding for their research projects in both academic and corporate work settings. Although there has been a major progress has been achieved in recent years, there is still a need for more improvement. There is still an undercurrent of discrimination that exists in the workplace. The underlying reasons why minorities are underrepresented in science and research fields is rooted to lack of educational opportunities, proper guidance and encouragement for pursuing STEM. I think policy makers, school systems, higher level institutions as well as parents can play major roles to solve part of these underlying problems. In addition, once minorities individuals start in the workplace, they can hit an unwritten ceiling in terms of career advancement.
Have you had the opportunity to mentor underrepresented minorities or work to increase diversity in science? If yes, can you describe your experience and what agencies/organizations you worked with?
I have been in a managerial position for many years and had opportunities to hire several scientists from underrepresented groups. I worked closely with human resources to specifically seek out to candidates from traditionally black colleges and other universities. As a result of that several young scientists could able to find their first jobs and able to build their careers up in research and development. Some did not have a perfect resume due to various circumstances, but when given the opportunities they truly excelled and it was quite inspiring to witness the transformation firsthand. My recommendation to those who are in positions to hire young scientists is to look beyond the resume and spend some time to learn more about the person's character and desire to learn and strive.
Based on your experience, how would you encourage AADR members to help increase the diversity of the research workforce?
We all are very busy and have very demanding jobs and more often, it is easy to be in an "out of sight, out of mind" situation. Therefore, I encourage AADR members to be more educated and conscious about what it really means to have a diverse work force and many benefits it brings to the workplace. I also encourage AADR members who are in research specially to provide more internships and research opportunities to scientists from underrepresented groups. For those who are in leadership positions to mentor minorities and groom them as a part of their succession plan.
What role do you think professional associations can play in supporting its members who are members of underrepresented minority/ethnic groups?
Underrepresented minority groups account for disproportionately smaller percentages of people in research and development. Professional associations such as AADR can play pivotal roles by helping the participation and advancement of minorities in research and development. In addition to building networks with proven approaches that help broaden their participation in the workplace, it's important for minorities to see more of minority leaders to look up to in many professional institutions. If they see people that look like them in leadership positions, they will believe that they too could one day be a leader. All of this can lead to greater diversity within organizations, which can have positive benefits for all.