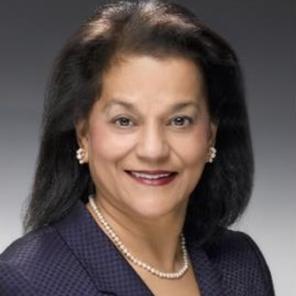 Dr. Rena D'Souza is the Director of the National Institute of Dental and Craniofacial Research, National Institutes of Health. She is deeply committed to the organization's mission — advance fundamental knowledge about dental, oral, and craniofacial health and disease and translate these findings into prevention, early detection, and treatment strategies that improve overall health for all individuals and communities across the lifespan.
As the Director of National Institute of Dental and Craniofacial Research (NIDCR), National Institutes of Health, D'Souza oversees the institute's annual budget of over $500 million, supporting basic, translational, and clinical research in numerous areas of oral health.
Prior to becoming NIDCR's director, D'Souza served at the University of Utah as Assistant Vice President for Academic Affairs and Education for the Health Sciences. She held the Ole and Marty Jensen endowed chair in the School of Dentistry that she led as inaugural dean. As a clinician-scientist, D'Souza has been strongly committed to discovery and mentoring throughout her academic career. She is a former President of both the American Association for Dental, Oral, and Craniofacial Research (AADOCR) and the International Association for Dental Research (IADR). 
D'Souza is an internationally recognized researcher in the areas of craniofacial biology and genetics and has authored over 150 publications and book chapters. She received the 2010 Presidential Award for Research Excellence from the Texas A&M Health Science Center and was inducted into the German National Academy of Sciences in 2012. Columbia University College of Dental Medicine's awarded D'Souza the Birnberg Research Medal in 2016. As a fellow of AADR and AAAS, Dr. D'Souza also received the IADR Distinguished Scientist Award in Pulp Biology Research in 2002 and the Irwin D. Mandel Distinguished National Mentoring Award in 2017. 
D'Souza is active on several trans-NIH committees and maintains an active research laboratory in the National Institute of Child Health and Human Development (NICHD), NIH.
How did you first learn about the AADOCR and what motivated you to join? 
I joined the AADOCR (then AADR) family very early on in my career when I was a PhD trainee under the mentorship of Dr. Barnet Levy, who served as President of IADR and the editor of Journal of Dental Research. He was a great mentor who taught me the values of caring for others and of service to the community. Both AADOCR and IADR have served as windows to the outside world for me, for several reasons. Having started my career at the School of Dental Medicine at Columbia University in New York, I transferred to the University of Texas Health Science Center in Houston. The school at the time had a rich legacy, but there wasn't as much of a focus placed on early-career researchers like myself. So, having the broader AADR and IADR communities to share my research interests with was really the mainstay of my career. It's what bolstered me up, allowed me to create a network, to mentor and be mentored, and enriched my professional life in boundless ways. I grew as a scientist, a leader and a mentor learning how to present my data effectively and the value of both winning and losing competitions, while welcoming feedback from my most senior mentors. This was all part of that professional "growing up". I'm very indebted to the organization… and I think they know it!
Can you describe your research? How do you hope your work will impact others?
My research has always evolved from a deep sense of curiosity. While one can start a project expecting one thing or another, it is wise to always remain open to the unexpected findings. That's the way I approached it. There were always serendipitous results that I didn't expect but was prepared to investigate further. Throughout, my sense of intellectual curiosity about long-standing clinical problems I personally witnessed, drove my research interests. I started off wondering how dental pulp responds to injury and then became interested in skeletal and matrix biology as dentin-form cells, odontoblasts, are cells akin to osteoblasts, cells that form bone. How the craniofacial complex is patterned intrigued me as I wondered why a point mutation in a single gene leads to common disorders like tooth agenesis and cleft palate. So, my scientific journey became enriched as it was fueled with a true love for discovery research in areas that would make a difference to patients. 
Can you describe your experience being a researcher from an underrepresented group in science?
I came here as a first-generation immigrant from India having being raised in highly educated family of professors, so I was not aware I'd be looked at differently. Over time, being in two of the most conservative states, Texas and Utah, I experienced firsthand the feeling that optics matter to certain people and can play a role in how one's career path emerges. In retrospect, I wish I'd recognized that earlier so that I could have prepared better to overcome struggles I faced throughout my academic career. I do believe that my resilience and optimism about life were qualities that became even stronger through these experiences. Feeling that I was dunked two feet underwater always led to me bouncing back up at least sixfold and with far more vigor than before. Realizing that I was a unique human being on the path to becoming the person that I was meant to be I felt that I had the right to achieve my fullest potential. But the road traveled wasn't easy and I sometimes wonder how much more productive I could have been, should it have been so. Now, I strive to create a true sense of belonging for all whose paths I cross in life.
You have served as president of both IADR and AADOCR and are currently the Director of NIDCR. Can you discuss what you do as the Director to engage underrepresented minorities and how AADOCR plays a role?
Being leader of these two amazing associations taught me about the value of drawing from the richness of each country I visited and how important it is to both leverage and learn from the resources we can share – human, intellectual and technological. This is what makes IADR a truly one-of-a-kind association, as it can bring the added value of global research to advance our understanding of dental, oral and craniofacial diseases. There are certain problems that do keep me up at night: for example, why, despite the unprecedented science and technology advances witnessed in past decades, have we not improved oral health for all? 
I am highly sensitized to the needs of those who simply struggle to succeed or even survive in academic research because of prejudice and bias. Root causal mechanisms are indeed complex and embedded in the history of our nation but the time has come for us to value the contributions of different backgrounds, colors, cultures and interests. I gained valuable knowledge from my leadership roles of AADR and IADR as together they shaped me for the real-life experiences that come with the responsibilities entrusted to the Director of NIDCR Director.
I also feel honored and privileged to serve in this position. Every day, no matter how difficult the challenge, I find great joy in what I do. First of all, I'm a public servant. My chief responsibility is to steward the finances we've been entrusted with. NIDCR has a budget of over US$500 million. To be able to steer that toward research that makes a difference to individuals and to our community is at the heart of what we do. It was why we were created in 1948, and we've stayed true to that mission ever since. NIDCR will soon celebrate its diamond jubilee year (June 2023 to June 2024). We plan to acknowledge the institute's rich legacy of research accomplishments, but with the focus on the next 25 years when we will strive to translate our discoveries through implementation practices that improve oral health for all. Our flagship event will be held on NIH's central campus in Bethesda and will celebrate NIDCR's trainees and mentors. 
Based on your experience, how would you encourage AADOCR members to help increase the diversity of the research workforce?
Each AADOCR member at every stage of career development has an important role to play in creating a better sense of belonging and value within the relatively small research community we belong to and, in larger contexts, relate to. There is extensive literature that describes that a diverse biomedical research workforce improves outcomes at so many levels. Organizing activities within schools and universities where implicit biases are discussed openly, where problems can be addressed constructively and where improper behaviors are called out, is critical for the cultural changes we seek. I know that AADOCR embraces these values and that its Mind the Future Program, National Student Research Group and the Women in Science Network are forums that provide valuable interactions and growth opportunities. 
What role do you think professional associations can play in supporting its members who are members of underrepresented minority/ethnic groups? 
Professional associations play a huge role. Because of its broad functions as a connector, AADOCR should grow its commitment to become more engaged in the life of trainees and academics involved in dental, oral and craniofacial research. As a whole, the oral health profession does not reflect the demographics of the country and select populations experience oral health differently from others. Diversity, equity, inclusion and accessibility are all directed towards that better sense of belonging. Through its Mind the Future Program AADOCR has shown that such investments do pay off in creating pathways that are both inclusive and equitable for those who are underrepresented in our profession and in society at-large. Needless to say, partnerships built with all our professional organizations and stakeholder groups will help move the needle on this front.