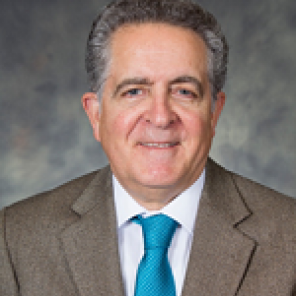 Renny Franceschi is the Marcus L. Ward Collegiate Professor of Dentistry, Professor of Biological Chemistry and Professor of Biomedical Engineering at the University of Michigan, Ann Arbor. He has also served as Director of Research and Associate Dean for Research at the School of Dentistry. His research is focused on signals regulating bone and joint formation with particular emphasis on roles of the extracellular matrix and associated receptors. Ongoing studies are investigating the role of collagen receptors in bone development and regeneration. His research team is also actively involved in the development of tissue engineering approaches to stimulate bone and blood vessel growth through the controlled expression of regenerative factors as well as development of synthetic scaffolds that mimic the extracellular matrix environment.
Franceschi holds a B.A. in Zoology from the University of Vermont, Burlington and a Ph.D. in Biochemistry from Purdue University, West Lafayette, Ind. After completing a two-year postdoctoral fellowship at the University of Wisconsin-Madison, he joined the faculty at the Harvard University School of Public Health, Boston, Mass. as an Assistant Professor of Biochemistry. Franceschi subsequently held Associate Professor positions at the University of Texas Dental Branch, Houston and the University of Michigan Schools of Dentistry and Medicine, Ann Arbor.
Franceschi has published more than 130 papers and been continuously funded by the NIH for the past 35 years. He served as the President of the IADR Mineralized Tissues Group and held an editorial position on the Journal of Dental Research. He was the 2008 winner of the IADR Distinguished Scientist Award for Basic Research in Biological Mineralization and was elected an AADR Fellow in 2019.

1. How did you first learn about AADR and what motivated you to join? What do you find to be the most valuable benefit of AADR membership?
After starting my first faculty position at a dental school at the University of Texas Dental Branch in Houston it became obvious from talking with other faculty that an IADR/AADR membership is essential for any successful dental researcher. The friendship of many wonderful colleagues and exposure to outstanding science at IADR/AADR meetings are the most rewarding parts of membership. Attendance at IADR/AADR meetings also spawned many highly productive collaborations over the years.
2. What is the best way for other members to become more involved in AADR?
To me, attendance at the annual meeting and involvement in the individual scientific groups is the best way to meet colleagues sharing your scientific interests and learn about their research. I also suggest members become involved in the various AADR committees and in their local chapter.
3. You served as the President of the IADR Mineralized Tissues Group (2000-02). What motivated you to run for office? How has this leadership experience within AADR shaped your career?
I had already been involved in the Mineralized Tissue Group for several years and felt it was an important venue to support and help grow. I also think the scientific quality of mineralized tissues research in the IADR is outstanding and I wanted to promote this in the dental and craniofacial research community.

4. You were named a 2019 AADR Fellow. What does this mean to you?
This is a very gratifying recognition of the things I have tried to contribute to the dental and craniofacial research communities. It is also a way to serve as a mentor to less senior researchers.
5. What do you want to see in the future for AADR?
A primary function of the AADR is to promote, support and be a cheerleader for the global dental, oral and craniofacial research community. I am still amazed when scientific colleagues make comments like, "I didn't realize how much research is done in dental schools." Research under the AADR umbrella is actually a microcosm of biomedical research at-large with cutting-edge work being done in developmental biology, genetics, neuroscience and cell signaling-to name just a few areas. We need to promote this and make sure it is adequately supported.