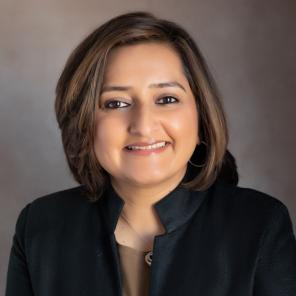 Tamanna Tiwari is a dentist and an Assistant Professor in the Department of Community Dentistry and Population Health, and Associate Director, Center for Oral Disease Prevention and Population Health Research at the School of Dental Medicine at the University of Colorado. She obtained a Master's degree in public health in global health leadership from New York University. Tiwari's research areas are oral health disparities, community-based participatory research, behavioral research, and oral health policy. Tiwari is funded by the National Institute of Dental and Craniofacial Research, as well as state and national foundations to conduct research to reduce oral health inequalities. She was awarded the 2020 IADR centennial emerging research leaders award for the North American region and is the President-elect for the IADR Behavioral, Epidemiologic and Health Services Research Group.
How did you first learn about AADOCR and what motivated you to join?
I learned about AADOCR in 2012 (back when it was AADR), and I was encouraged to join as it was the only organization for dental research. The fact that there was a Behavioral Research group (BEHSR) within the IADR/AADOCR community motivated me even more. I knew I would find like-minded researchers and colleagues, and indeed I found "my peeps." I am now the president-elect of BEHSR!
What do you find to be the most valuable benefit of AADOCR membership?
Learning about new research and new collaborations is one of the best ways to make sure we keep learning from each other. As a member, it's much more likely that you'll find people with whom you can do new research. It also improves your personal growth.
 
What motived you to apply to the AADOCR MIND the Future Program? 
It was a no-brainer! AADOCR is known to help people excel in their research and in their academic lives, and I had complete faith in the PIs who were a part of it. They wanted to know about my background and research interests so they could put me in touch with a mentor in that area.  They also brought together people in the "same boat" with similar career trajectories. During COVID it was hard, but when I read the description of how the program was structured I was happy to see that AADOCR isn't just thinking about research, but also how to help junior faculty and researchers carry on the legacy.
What interests or excites you most about being part of AADOCR MIND the Future?
For me, the active participation in the program is over. I was past of the first MIND group and we formed our own communications channel (with coffee hour every Monday!) where everyone comes to chat about their news, the good and the bad. We've made life-long friendships and collaborations, and it's still continuing. We constantly get updates about each other from our WhatsApp group, even if we can't meet at the meetings.
What do you view as the best way for other members to become more involved in AADOCR and get the most out of the membership?Getting involved in leadership from a group or network would be a great idea.  This offers leadership experience and a change to get more involved in the organization. Don't be intimidated, just apply! Get your foot in the door with whatever you think you want to do, or whatever you have time to do. This will bring you close to the inner workings of the organization and learning about other people.