Honorary Members are non-members, selected on the basis of the candidate's significant contribution to, or support of, dental research. Please see the AADOCR Constitution and Bylaws for further details.
Key Dates
Applications Open:
Jul 11, 2022
Applications Closed:
Oct 10, 2022
2022 Recipient
Francis Collins, National Institutes of Health, Bethesda, Maryland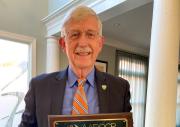 Questions about this award?

Beatrice Nguyen
Awards, Fellowships and Grants Coordinator
Email me