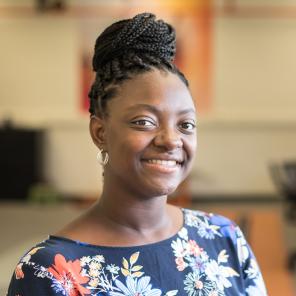 Cherice Hill grew up in Cary, North Carolina surrounded by family, friends, and mentors in science and engineering. She earned her Ph.D. in Biomedical Engineering from Virginia Tech, focusing on movement mechanics in diverse populations as they relate to injury and disease risk. She is currently a postdoctoral fellow in the multidisciplinary Clemson-MUSC Bioengineering Program studying temporomandibular joint function, structural and mechanical influences of ligamentous structures, and related health disparities. Cherice has recently been awarded a NIH NIDCR Postdoctoral Career Transition Award (K99 MOSAIC), which will support investigation of sexual and racial dimorphisms in the structure-function relationship of the human temporomandibular lateral capsule-ligament. Her research reflects her broader priority to improve diverse representation within research, optimize research translational equity to mitigate health disparities, and support pipelines to create a more diverse academic workforce.
How did you first learn about AADOCR and what motivated you to join?
My graduate research background is in lower extremity functional biomechanics. After joining Dr. Hai Yao's tissue biomechanics lab as a postdoctoral fellow, I began studying temporomandibular biomechanics and was introduced to the AADOCR. At the beginning of my postdoc, I had very limited experience with dental and craniofacial research applications, so AADOCR has played a vital role in helping me become integrated within this research community.
What do you find to be the most valuable benefit of AADOCR membership?
The community, support, and open communication within AADOCR has been extremely valuable for me. Members have welcomed me into the research community and have provided wonderful advice and support throughout my membership. As an engineer conducting translational research, having clinicians and clinician-scientists within my research network provides the opportunity to gain clinical perspectives and form collaborations. Especially at the height of the COVID-19 pandemic when interactions were limited, AADOCR's prioritization of community formation and enabling communication and mutual learning among members was incredibly beneficial.   
What motivated you to apply for the AADOCR MIND the Future Program? 
When I started my postdoctoral fellowship in 2020, I was also shifting to a new research area and relocating during a pandemic. I didn't know very many people within this new research field and interactions were limited due to the pandemic, so community integration wasn't as seamless as it might have been. Beginning a postdoctoral fellowship is always a big shift, but those complicating factors made that transition all the more challenging. At that point, I was really looking for a diverse community of researchers to form meaningful connections with, learn from, and provide mutual support. When my mentors shared the application call for the AADOCR Mind the Future Program with me, I realized that this program was exactly what I was looking for. I was extremely excited to apply and am so grateful to have been selected and given the opportunity to participate.
What excites you most about being part of AADOCR MIND the Future?
AADOCR Mind the Future provides the opportunity to create a meaningful and diverse community of dental, oral, and craniofacial researchers. Research and academic engagement are enriched by diverse perspectives and community learning. Being part of this vibrant community allows me to learn from others' experiences and share my own experiences that may benefit others. It is exciting to see the always-evolving academic workforce and get to know the novel and impactful research being conducted within the field. 
What is the best way for other members to become more involved in AADOCR and get the most out of the membership?
Putting yourself out there and being open to new ideas and collaborations is an excellent way to become more involved. AADOCR's membership is full of diverse perspectives and expertise. Just talking to other members about your experiences and research goals can open up an opportunity to learn about new research methods, receive valuable career and research advice, or form an exciting new collaboration.