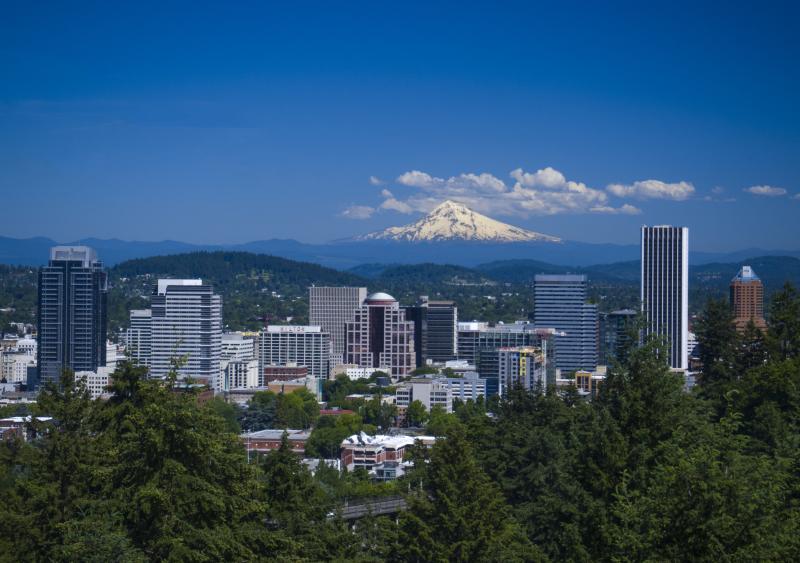 2023 AADOCR/CADR Annual Meeting & Exhibition
Portland, OR, USA, March 15-18, 2023.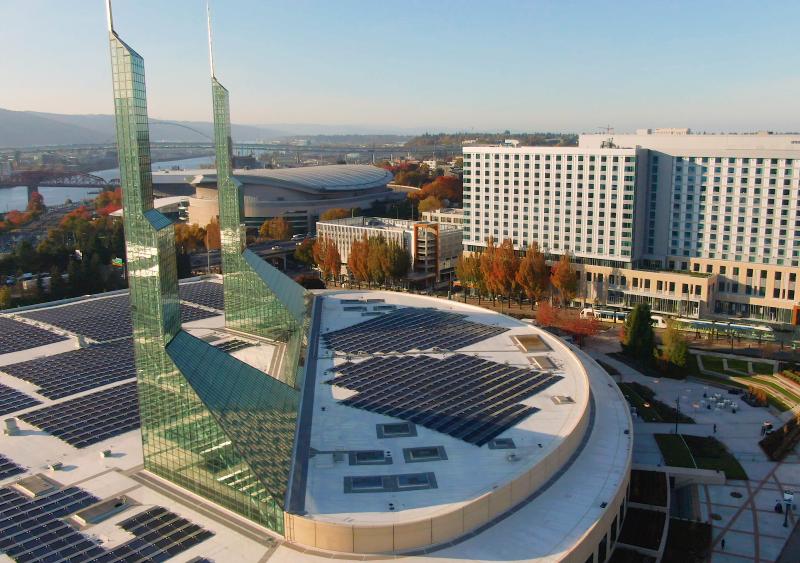 The Venue

777 NE Martin Luther King, Jr. Blvd
Portland, OR 97232
https://www.oregoncc.org/en
Fast Facts
Currency: U.S. Dollar ($)
Language: English
Time Zone: Pacific Daylight Time (GMT -7)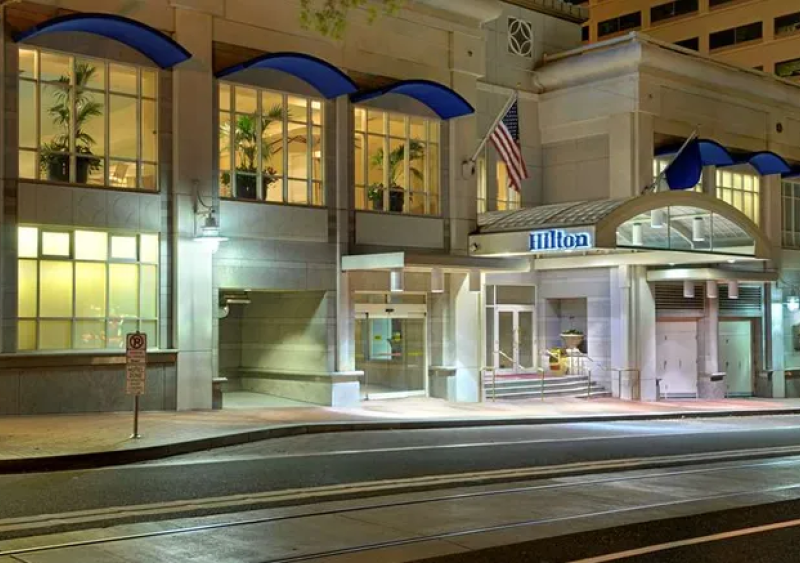 Headquarter Hotel
Hilton Portland Downtown
921 SW 6th Avenue
Portland, OR 97204
The official AADOCR headquarter hotel is located in downtown Portland, two blocks from Pioneer Courthouse Square. The Pioneer Place MAX Station is a short walk away for light rail links to the Oregon Convention Center with complimentary passes being offered to all registered AADOCR attendees. The hotel is surrounded by popular Portland restaurants and social gathering venues where you can enjoy locally sourced produce and custom espresso drinks.
Attendees who reserve hotel accommodations through the official AADOCR housing site can receive a free light rail pass good for the duration of the meeting. 
Passes can be picked up at Convention Center registration beginning Tuesday, March 14 at 2:30 p.m.
Expovision, our official housing provider is also ready to take reservations/answer inquiries via email aadocrhotels@expovision.com  and phone: #866-774-0485.
Deadline for housing reservation is February 18, 2023.
 Getting Here
Travelers named Portland International Airport (PDX) the best airport in the United States in Travel + Leisure's survey every year from 2013–2019. PDX offers nonstop flights to 60 U.S. cities and is conveniently connected to Portland's city center (only 9 miles/10 minutes away!) via MAX light-rail train. Once you arrive, efficient public transit—including light rail, bus, and streetcar services, miles of bike lanes, and pedestrian-friendly city streets make navigating Portland a breeze.
Visit the airport website https://www.pdx.com/ for more information about airlines and terminals.
There are a variety of ground transportation options from the airport to downtown hotels. Learn more here. https://www.flypdx.com/GroundTransportation
Just 9 miles from Portland International Airport (PDX), visitors can access the Oregon Convention Center (OCC) via Interstate 5 North from Exit 302A–Rose Quarter, or from Interstate 84 West Exit 1–Lloyd Boulevard.
Street address: 777 NE Martin Luther King, Jr. Boulevard, Portland, OR 97232
All attendees staying in the trendy Portland downtown area are encouraged to use TriMet MAX light rail, the Portland Streetcar and TriMet buses for the easiest arrival and departure experience. Registered attendees for the AADOCR meeting will be provided with passes to use the light rail.
From the Hilton Portland Downtown Hotel, walk 487 feet to the Pioneer Square South MAX Station. The trip to the Rose Quarter Transit Center stop is approximately 10 minutes (6 stops) and will drop you off directly across the street from the entrance to the Convention Center on Martin Luther King Jr. Boulevard.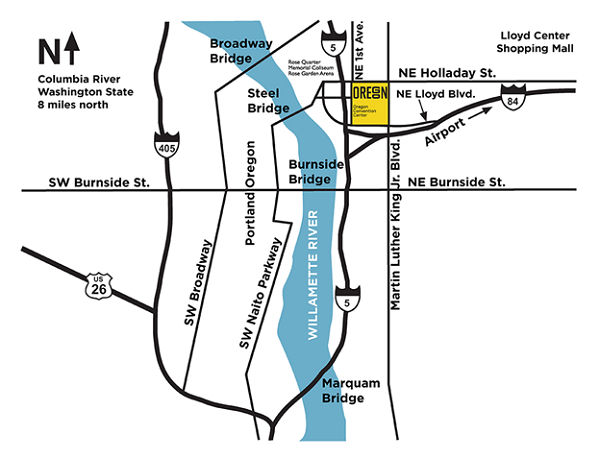 If you plan to drive, please allow for ample time to park before your event.
International Travel
AADOCR has members worldwide, many of whom travel to the United States for work, collaboration, or meetings. Find information on obtaining a US visa, the visa waiver program for travelers from selected countries, and more.
Obtain a Visa Letter
Registered Meeting Attendees
Registered attendees may request a general visa letter of invitation at the time of registration. 
Preparing to Attend the Meeting
After you complete the visa application process, use your government's travel resources to plan your travel. To save money and assure you receive proper accommodations, we strongly recommend that you complete your hotel reservations and register for the meeting through AADOCR before the deadlines.
All attendees, including presenters must register for the meeting in order to participate. Attendees must display their badge at all times to be admitted to all official AADOCR sessions and events.
AADOCR does not endorse third party companies who contact our attendees and exhibitors to book accommodations through their companies for the 2023 AADOCR/CADR Annual Meeting. These third party "pirate" companies reach out to delegates and exhibitors offering special discounted hotel rooms for other associations' meetings. Often, these discounted rooms do not exist, and your deposit may be forfeited. The primary objective of this solicitation is to obtain credit card information. Expovision, the AADOCR Housing Services Provider, will not contact you by phone or email requesting credit card information for reservations. AADOCR has no affiliation with these companies and is unable to guarantee rates and accommodations made through these companies.
Please note that Expovision is the ONLY Housing Services Provider for the AADOCR/CADR 2023 Annual Meeting. AADOCR does not endorse booking hotel reservations through any other sources. Please do not be misled by companies that solicit you over the phone and misrepresent themselves as the AADOCR Housing Services Provider. If you are contacted by one of these third-party companies, please contact @email immediately.
All correspondence received from Expovision regarding housing for the meeting will include the housing services provider official logo seal.
For accurate information regarding reservations or availability, please visit our housing services provider Expovision's booking site. (Coming soon)

Expovision: The Official AADOCR Hotel Reservation Office
EMAIL: @email
Phone: Toll Free: (866) 774-0485
Departing Airport Discount Parking:
.

Book your airport parking with CheapAirportParking and enter discount code AADOCR20 to receive a 20% discount on your airport parking.
Discover Portland
Nestled in the shadow of Mount Hood, Portland's temperate climate means there's never a bad time to visit! So, pack your galoshes and get ready to explore the City of Roses just as it's starting to bloom. With 70 miles of hiking trails within Portland city limits, the world's largest independent bookstore, a dozen scenic bridges crossing the Willamette River, nearly 300 luscious gardens and parks (including the world's smallest park!), tax-free shopping, more breweries than any other city on earth, and wine country in its backyard, Portland has more than a little something for everyone.
Like the city itself, Portland's attractions are a little unexpected and always inspiring.
It's safe to say a visitor will never experience the same Portland twice. The city's top attractions are constantly evolving, creating exciting pop-ups, debuting new works, and hosting events that attract both locals and visitors alike. Click here for a list of favorite things to do, see and experience in Portland, then check out the events calendar to help you plan your trip.
Visit www.travelportland.com for local guides to start planning your perfect Portland adventure.
Things to See and Do
A City of Neighborhoods
Portland is known for the vibrancy and uniqueness of its many neighborhoods, each with a distinct sense of place, and — in quirky Portland fashion — spread across six so-called "quadrants."
Locals will tell you that you haven't truly been to Portland until you've connected with our diverse communities.
Visit the Portland neighborhoods page to get acquainted with more than 20 awesome Portland neighborhoods.

Tax-Free Shopping
More questions about traveling?

Leslie Zeck
Director of Meetings
Email me